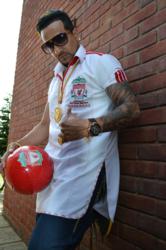 I really believe in the passion that Inventive Sports have about increasing Asian participation in football.
London, UK (PRWEB UK) 8 August 2012
Born in Punjab, India and raised in Surrey, British Columbia in Canada, Jaswinder Singh Bains released his debut album in 1993. He has since gone on to release over 15 albums and has toured the world twice over. Tagged as the 'Crown Prince Of Bhangra', Jazzy B has become one of the most recognised Punjabi personalities in the world with his unique style – both vocal and fashion.
"I am a huge LFC supporter and proudly wear my official LFC shirts on stage in India and the Far East. For the UK and North American audiences, I generally wear my customised LFC kurta (a traditional Indian loose shirt). I designed it myself and got it custom made by my tailor in Punjab. All the Asian Liverpool supporters around the world who've seen it are asking where they can get their own kit from". Jazzy's passion for the Reds has seen him endorse LFC in his recent smash-hit video the title track to 'Maharajas'. "It was an easy decision, the director wanted a certain style and the shirt was the right choice. I also have 'Maharajas' (meaning Kings) printed on the back"
With over half a million Youtube hits to his last video alone, 20,000+ followers on Twitter and in excess of 250,000 fans on Facebook, Jazzy B proves that his musical message goes far beyond the surrounds of the Asian music arena. "I love talking about music and football on twitter and facebook. It's what keeps me informed of how LFC are doing while I am on tour. I am also proud to be an honorary patron of the Punjabi LFC twitter fan club; I'll do anything I can to promote Liverpool FC."
As a sports fanatic who also follows Ice Hockey and the Indian sport of Kabaddi, Jazzy encourages his young fans to keep active. He is especially keen to see an Asian become a high-profile professional footballer, ideally with Liverpool FC. "It would be a dream come true to see a South Asian play at Anfield in front of the Kop. I'm sure it will happen and hopefully it will be my son Joven. He's Liverpool mad. He's the first in our house to have his scarf in front of the TV singing 'You'll Never Walk Alone' whenever we watch a Liverpool game."
Jazzy has partnered with Inventive Sports, a UK based sports consultancy, in their drive to promote UK Asians in football. "I really believe in the passion that Inventive Sports have about increasing Asian participation in Football. It was their enthusiasm that really made me decide to support their cause. I hope I can help reach out to my global fan base and make a difference."
Baljit Rihal, Director of Inventive Sports said, "We are glad to have Jazzy B on board to help us spread the word about Asians in Football. It's not just about the players on the pitch; it's also about encouraging more Asians onto the terraces. Having Jazzy as an ambassador will help us encourage participation on all fronts". Baljit, who also founded the Asian Football Awards, continued; "We are very excited to be working on a project with Liverpool Football Club's supporters committee, which we hope will help increase the awareness of Asians in football. It's also an added bonus that Jazzy is a passionate LFC fan and that he supports the club through his music and social media channels".
Liverpool FC's Ethnic Minority Supporters representative, Abu Nasir commented; "LFC are very much engaged with its Asian fan base and are proud to say that we probably have the biggest following of supporters from a South Asian background both in the UK and globally. We continuously work and engage with Asian fans on an on-going basis and are excited about developing this project in partnership with Jazzy B and Inventive Sports."
Danny Lynch from football's equality and inclusion organisation Kick It Out said, "If we see more Asians following their team in person after a clarion call from someone like Jazzy B, it can only be of benefit for the community and the game as a whole. Music and football have long had parallels with one another, combining passion and excitement from a mass audience. When they are used together to promote one another, as is the case here, they seem obvious bedfellows. Moreover, anything which creatively gets more people interested and energised by football is something to be applauded. "
Former professional footballer and FA Consultant, Brendon Batson MBE was asked whether using music icons to engage with Asian fans was a positive step. He commented, "It's a good idea if done in a genuine way. It would also be beneficial if they supported a team or at the very least football."
After being informed of the forthcoming project, BBC Asian Network Presenter and fellow LFC supporter, Noreen Khan commented, "Having Jazzy B team up with LFC is brilliant news! He is probably the biggest Bhangra star around and has built up a huge loyal following over the years. With Jazzy helping to promote this initiative it can only help generate and boost more interest in football amongst young Asians."
With the 2012/13 season just weeks away, Jazzy hopes to catch some games in between his future tours and film release. "My wife and I saw Canada play in the Olympics last week, so now I am buzzing for the new Premiership season to start. I definitely plan to go to Anfield this season to see how Brendan Rogers gets the team playing. I was devastated to see Kenny go, but hopefully the team can now move on and challenge for the number one spot after such a long wait for another title."
With future plans to showcase Asian footballers in one of his music videos, Jazzy feels he has seen enough talent to know the future is bright. "I've seen kids in Canada, India and the UK wearing their Premier League shirts with pride. Asian kids love the game and they all want to be the next Messi, Ronaldo or Gerrard. It would be great to have my music and my passion for Liverpool FC get more Asians interested in the game. With so many fans around the world supporting my music, I hope I can encourage more of them to start supporting Liverpool Football Club."
Follow details of the project on Twitter: @JazzyB @InventiveSports @PunjabiLFC