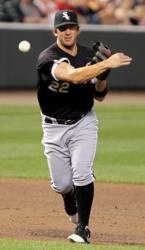 For years I have been searching for a product to successfully battle the July and August conditions on the baseball field. I finally found that product and have never felt better. Thank you The Right Stuff!
Boulder, CO (PRWEB) August 08, 2012
Brent started using The Right Stuff®, hydration formula from NASA, earlier this this spring and has been using it regularly since, including during his recovery from a recent back injury.
He reached out to Wellness Brands, Inc., makers of The Right Stuff -- Serious Hydration for Serious Athletes™ -- because the product works so well and he wanted to help get out the word about the NASA developed formula. "I tried it in spring training, and I felt it made a real difference in my performance" reports Mr. Morel. "In the past, I experienced weakness or loss of power as I worked to keep hydrated throughout the hot baseball season, and this product really helps prevent that – plus it's convenient to use."
What is The Right Stuff®?
NASA developed the patented formula to combat the dehydration our astronauts suffer from, when they come back into the gravity of Earth. The formula was extensively tested among astronauts and athletes and was shown to be far superior for:
1) fighting the symptoms of dehydration (cramps, headaches, muscle fatigue, light-headedness etc.)
2) improving core thermoregulation; protecting the body from overheating during times of high exertion and in high heat settings
3) increasing athletic endurance over 20% more than any other NASA-tested formula.
And now this formula is available for athletes everywhere!
The Right Stuff contains a patented blend of electrolytes with no carbohydrates. The Right Stuff® is a liquid concentrate drink additive for before, during and after workouts.
"As ball players, we are always challenged to stay hydrated especially in the high heat and humidity of places like Kansas City, Baltimore and Arlington Texas as well as here on the South Side of Chicago" relays Brent.
"I use one serving in a bottle of water before a game and have it available if I need it during the game, especially for those baking hot summer day games here in Chicago."
Wellness Brands is proud to announce that, based on his experiences and belief in the product, Brent Morel has taken on The Right Stuff® as one of his sponsors.
The Right Stuff is currently available via the Internet and through select specialty sporting goods retailers. For more information about The Right Stuff visit:
http://www.TheRightStuff-USA.com
Wellness Brands, Inc.
Boulder CO 80301-3346
720-684-6584
XXXXX