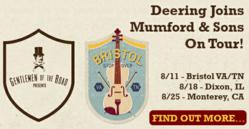 Spring Valley, CA (PRWEB) August 08, 2012
Deering Banjo Company is delighted to announce that we will be teaming up with British folk rockers Mumford & Sons on three of their four highly anticipated Gentlemen of the Road Stopover shows during August 2012.
With a new album entitled "Babel" looming, Mumford & Sons have personally handpicked each location, creating a series of full day festivals, by essentially turning the town into a celebration of local music, local food and of course the people who make it. Deering will be with them every step of the way with a selection of banjos for you to try as well as enthusiastic Deering staff members offering lessons, tips, advice and a welcoming smile!
Mumford & Sons are no strangers to thinking way outside of the box when it comes to touring and giving back to their fans. In 2011, the Railroad Revival Tour saw the boys from London take to the rails as part of a six stop tour of Americas South West region, traveling exclusively by vintage rail car. And in 2012, the three remaining Gentlemen of the Road Stopover dates come hot on the heels of similar events in Huddersfield, England and Galway, Ireland as well as the first US Stopover where they invited no less than seven of some of their favorite bands to join them in taking over Portland, ME including fellow Deering artists, Dropkick Murphys.
So come out and join Deering, Mumford & Sons and a host of fantastic support acts who will guarantee nothing less than a great time!
Deering will be attending the following Gentlemen of the Road Stopovers:
8/11 Bristol, VA/TN – Off State Street in Downtown Bristol
8/18 Dixon, IL – Page Park
8/25 Monterey, CA – Monterey County Fairgrounds
For tickets and more information, visit http://www.gentlemenoftheroad.com
Deering Banjo Company was founded in 1975 and has grown to become the largest manufacturer of American made banjos in the world. Deering is located in Spring Valley, CA and produces quality 4-string, 5-string, 6-string, and 12-string banjos. Deering is proud to have artists such as Mumford & Sons, the Avett Brothers, Bela Fleck, Steve Martin, Taylor Swift, Keith Urban, Taj Mahal, and Dropkick Murphys play their banjos.