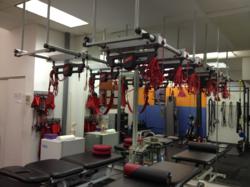 New York, New York (PRWEB) August 08, 2012
Who wants to put themselves through an exclusive, top-secret Olympic training program developed by a European Physiotherapist and Dancer, that can instantly transform those flabby muscles into a tight and tone figure while minimizing injury and the use of bulky weights at the gym??
Redcord Suspension Training Program is for anyone who wants to strengthen and restore their body, regardless of age and condition. It's a revolutionary treatment and training system exclusively available at Manhattan Physical Therapy and Pain Center. Over twenty years of research and clinical applications have culminated in the development of this comprehensive suspension exercise system proven to facilitate rehabilitation, fitness, and sports performance.
If you're already dieting and on a steady routine of healthy cardiovascular exercise and weightlifting, but you just aren't getting the results you want, try introducing a brief suspension interval training element in your workout. You don't need to add more workout time; just do our interval suspension workout twice a week when you'd ordinarily do your daily run.
How do suspension intervals work? An "interval" workout intersperses brief periods of high-intensity work with equally brief recovery intervals. Suspension intervals are exactly what it sounds like.
Suspended for several minutes, it makes for a quick and intense workout that is great for cardio training and weight loss. You'll get those long slim curves in no time. Suspension intervals work by simulating a sustained workout at a very high intensity, recruiting more muscle fibers throughout the body; by taking very short rests, you are able to maintain high intensity for a greater total length of time without exhausting yourself. Since the breaks are short, you maintain your heart rate and stay warmed up for the next high-intensity interval, so you can work harder in a shorter workout. It's a quick and effective way to burn fat and build strength for any cardio activity.
RedCord Suspension Training Program breaks out of the long tradition of training routines which rely on intensity of effort and resistance circuits. It's based on a strategy of precisely controlling movements and inducing high levels of neuromuscular stimulation to target specific areas of the body.
There is absolutely nothing like it. Unless you work on a trapeze for a living.
For more information about RedCord Suspension Training Program contact Manhattan Physical Therapy at 212-213-3480.