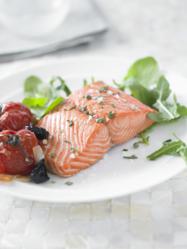 Being included in this short list of highly respected companies is a testament to our deep commitment to quality, authenticity, sustainability and health. Randy Hartnell, President and Founder
Bellingham, WA (PRWEB) August 09, 2012
Vital Choice Wild Seafood & Organics is featured in the July/August 2012 edition of Natural Home & Garden Magazine as one of their most trusted food companies.
The article, 14 Food Companies You Can Trust, appears on page 38 of the natural living publication, and includes Vital Choice with other notable organic and natural food companies, including Organic Valley, Eden Organics, Lundberg Family Farms, Nature's Path and Newman's Own.
The companies were praised for making "their business out of offering reliably healthy products that prioritize the health of their customers, their producers and the environment."
Vital Choice prides itself on supporting its customers' health and well-being by providing the highest quality wild seafood, whole-food supplements and organic fare.
"We're very proud of this recognition," said Randy Hartnell, president and founder of Vital Choice. "Being included in this short list of highly respected companies is a testament to our deep commitment to quality, authenticity, sustainability and health."
The magazine partnered with Good Guide, an organization that rate hundreds of companies on their health, sustainability and social attributes, to make their top picks.
ABOUT VITAL CHOICE WILD SEAFOOD & ORGANICS:
Before founding Vital Choice in 2001, Northwest Washington native Randy Hartnell spent more than 20 years as a commercial fisherman in Alaska. Today, Vital Choice is the leading source for fast home delivery of the world's finest wild Alaskan seafood, whole-food supplements, and organic fare. Vital Choice foods are the purest available, always sustainably harvested from healthy, well-managed wild fisheries and organic farms. The company's products are recognized for their superior taste and health benefits and endorsed by leading health and wellness experts, including physicians specializing in nutrition, pediatrics, and integrative health care.
For more about Vital Choice Wild Seafood & Organics, please visit http://www.vitalchoice.com.