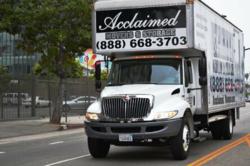 Save Money by Moving With a Professional Moving Company.
Los Angeles, CA (PRWEB) August 08, 2012
Moving is one of the top 10 most stressful life events people go through. Moving cross country is an even more complex task to accomplish with extensive packing, long drives, and finding a trustworthy moving company. Acclaimed Long Distance Movers is here to help you with your long distance move by providing you 5 easy tips to follow to make your moving process simple and stress free.
1. Safe Packing
Many people make the mistake of packing incorrectly. Whether you are moving yourself or with a professional moving company, you must keep in mind that it is going to be a long drive with many bumps. Make sure you pack your items safely with plenty of cushion. Always mark your fragile boxes and organize them in the truck accordingly.
2. Packing on Time
The biggest mistake you can make while moving long distance, is by packing last minute. Don't underestimate how much packing you have to do. With long distance moves, it is very inconvenient to make two trips just because you forgot to pack something. Save yourself at least three days to pack and organize the boxes that you will be moving.
3. Choose a Professional Moving Company
You might think moving by yourself will save you a lot of money. But with all the costs of moving yourself, the cost of gas, the cost of lodging and of course the cost of stress will be much more than moving with a moving company. Do your research and find a company that is trustworthy and has the experience moving cross country. You can get a free moving quote with Acclaimed Long Distance Movers.
4. Shipping Your Car
Driving your car long distance can be a huge expense as well. Depending on how far you are moving, you will have to consider important factors; cost of gas, putting high miles on your car, risk of getting into an accident, time and money for food and lodging. It is highly recommend to transport your car with a moving company to avoid complications. Auto Transport companies such as Acclaimed Auto Transport will secure your car in a moving truck and ensure the safe delivery of your vehicle.
5. Start Your Moving Process in Advance
The longer you wait to pack and book a move date, the more expensive the costs will be. The closer you get to your move date, the higher the moving rate will be. Call moving companies ahead of time and reserve a date at least a month before you plan on moving. Same goes with shipping your vehicle. This process can save you a lot of money.