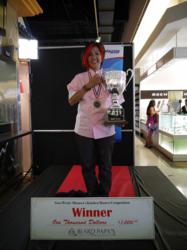 "I'm so honored to be in a competition with such extreme talent. We really brought out the best in each other," Tang said.
Los Angeles, California (PRWEB) August 08, 2012
In one of the most recent competitive Asian cooking challenges, Chef Kimmy Tang of 9021Pho Restaurants, took First (1st) Place in the 1st Annual Nisei Week/Mitsuwa Kitchen Masters Competition on Sunday, August 5. It was only fitting that this victory came during the Summer Olympic season, for the size and scope of the victory were truly of Olympic proportions.
The bar was raised for the final day of the competition by the arrival of Japanese Iron Chef French Hiroyuki Sakai. His special appearance launched the crowd into cheers of excitement. He congratulated the final two contestants and wished them well.
The competition was packed with the participation of several California-based executive chefs, all of whom have been recognized as top chefs in various competitions throughout the country. Over a two day competition, chefs went head-to-head in culinary heats, only learning about their secret ingredient requirement just seconds before the start of each round.
After an exhausting two day battle, Chef Tang emerged with the lead and took first. The crowd cheered with applause verifying that her talents and skills were truly unparalleled.
"I'm so honored to be in a competition with such extreme talent. We really brought out the best in each other. The cash prize I won today will be donated to the HARK (Healing Arts Reaching Kids) program supporting Children's Hospital Los Angeles. At 9021Pho our mission is service, both to our customers and to our community," stated Chef Tang with a big smile.
Chef Tang has certainly established herself on the world stage as a master chef. With over three decades of culinary experience around the world, she is one of the great pioneers of Asian fusion cuisine. 9021Pho will be opening several new locations in the Los Angeles area by the end of the year for many more to enjoy Chef Tang's delicious, healthy cuisine. Her excellence is not only celebrated in the kitchen, but also in our community!
For more information and press about Chef Kimmy Tang and 9021Pho Restaurants, please contact Marketing Director Jennifer BoGray at (330) 687-2244, jennifer(dot)bogray(at)9021Pho(dot)com.
###
About 9021Pho
9021Pho is a casual dining service restaurant inspired by Chef Kimmy Tang that offers a Vietnamese centric menu with a French and California twist. Our restaurant is centered on providing a new and exciting menu selection centered on healthy choices. We offer our guests a dining experience in a relaxed atmosphere coupled with great food and a carefully selected variety of California and French wines at an incredible value. (*Served at select locations.) For more information, go to http://www.9021Pho.com.
About Nisei Week
The Nisei Week Foundation was established in 1999 as a 501(c)(3) nonprofit organization to oversee and organize the Nisei Week Japanese Festival. The Foundation's mission is to promote Japanese and Japanese American heritage and traditions while bringing together the diverse communities of Southern California through arts and cultural education. It does this by producing the Nisei Week Japanese Festival, a nine-day event that is one of the longest running ethnic festivals in the United States.