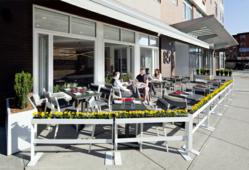 "Todd and Michelle really enjoyed their time in Brooklyn—they had never thought of coming to Brooklyn for a New York City trip." said Javier Egipciaco, NU Hotel Brooklyn's general manager.
Brooklyn, NY (PRWEB) August 08, 2012
Todd and Michelle, a hip 30-something couple from Missouri, first visited NU Hotel Brooklyn under unusual circumstances. The pair arrived at the boutique hotel on the corner of Smith and Atlantic Streets with a full television camera crew and were given an envious task: visit three New York hotels and choose their favorite. The challenge was part of an upcoming episode of "Top Spot," a new Travel Channel reality show, which will air on August 16. In this episode, NU Hotel Brooklyn will make its national television debut as a contender for Todd and Michelle's hotel of choice.
Will NU Hotel Brooklyn be the Top Spot? The hotel isn't telling — but it is hosting a Facebook invite-only viewing party featuring prizes and drinks in Misdemeanor, its lobby bar and restaurant.
"Todd and Michelle really enjoyed their time in Brooklyn—they had never thought of coming to Brooklyn for a New York City trip. We think our local vibe, service culture, and casual professionalism will give us to the edge to be New York's Top Spot." said Javier Egipciaco, NU Hotel Brooklyn's general manager. "We plan to have a lot of fun watching the episode together at Misdemeanor. There will be NU-themed prizes and complimentary sangria. We are really excited to celebrate NU Hotel Brooklyn's national television debut with our Facebook family."
"Top Spot," which premiered on July 12, 2012, was created by the producers of HGTV's "House Hunters." In each episode, a couple spends one day touring three properties in the same destination to determine which hotel they would like to stay at during their upcoming vacation. At the end of each episode, the couple chooses which hotel they prefer and the winner is declared the "Top Spot." In addition to their visit to NU Hotel Brooklyn, Todd and Michelle also visited two Manhattan hotels: The Carlyle Hotel and the Jane Hotel.
NU Hotel's Facebook-exclusive viewing party begins promptly at 10 p.m. on August 16. The hotel will be sending out invites to individuals that 'like' it on Facebook in the days leading up to the event. There will be complimentary Sangria at the 10 p.m. start of the episode, as well as raffle prizes, which include a brunch gift certificate for two.
Which hotel was chosen as New York's Top Spot? Tune into the episode to find out!
About NU Hotel Brooklyn:
NU Hotel Brooklyn is an environmentally conscious, first-class hotel, conveniently located at the intersection of four happening Brooklyn neighborhoods (Downtown Brooklyn, Boerum Hill, Cobble Hill and Carroll Gardens). NU Hotel Brooklyn manages to encapsulate that old school Brooklyn community vibe of having exquisite international cuisine, one of a kind boutique shops and world famous entertainment, all within a stone's throw from where you comfortably rest your head at night. NU Hotel is owned by Hersha Hospitality Trust (NYSE: HT) and managed by HHM, formerly known as Hersha Hospitality Management.
About The Independent Collection:
The Independent Collection is a growing collection of smaller, more intimate boutique lifestyle hotels located in truly unique neighborhoods of gateway cities across the US. The hotels of the Independent Collection are developed for the independently minded traveler and invite guests to experience the true spirit of the city.
About HHM:
HHM, formerly known as Hersha Hospitality Management, operates 89 hotels across the United States. HHM provides turnkey hotel management, asset management and receivership for properties with leading brand affiliations through Marriott, Hilton, Hyatt, Starwood, and Intercontinental Hotel Group. HHM also operates 14 independent hotels ranging from The Rittenhouse Hotel, a AAA Five Diamond property in Philadelphia, to the oceanfront Postcard Inn in the Florida Keys. Its highly experienced team is accustomed to serving as a fiduciary to publicly traded companies, joint ventures, institutional real estate owners and private investors.
Additional information on HHM can be found at http://www.hershahotels.com.
For further information, please contact NU Hotel Brooklyn at (718) 852-8585, http://www.nuhotelbrooklyn.com
For further press inquiries, contact: Mary Gollhofer at (267) 238-5025, mary(dot)gollhofer@hhmlp(dot)com.