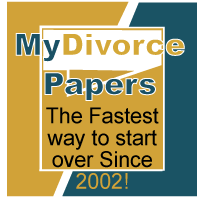 Every dollar spent on attorney fee's is one less dollar someone will have to rebuild their life post-marriage
Mission Viejo, CA (PRWEB) August 08, 2012
Online divorce forms website MyDivorcePapers.com announced the release of two new additions to the company's YouTube Video channel. The two videos are aimed towards educating and informing those people who live in California and Alabama about their respective state's divorce laws, as well as those looking into the divorce process. Entitled "How to file California divorce forms online" and "How to file Alabama divorce forms online," the videos encapsulate many of the laws and rules for those looking to file for divorce in those two states.
"We are very pleased with the overall look and feel of our videos. We feel that we were able to strike the right balance with being able to provide informative content while. At the same time, the videos are visually appealing and paced with a rhythm that most people can comfortably sit through while looking for a state-specific divorce. If you are looking for California divorce papers, these videos are going to provide solid, comprehensive information," said site creator and CEO Jason McClain.
MyDivorcePapers.com is one of the premiere internet services allowing users to streamline the divorce process, saving both time and money by getting their divorce papers online. By answering a simple questionnaire regarding the circumstances of their divorce, a final printed copy is produced which is ready to be filed at the local courthouse. The process is highly efficient and affordable, and many experts have long anticipated when the electronic era in which we live will allow us to sever matrimonial ties quickly and easily.
"We live in an era with Match.com, Yelp.com, and full-blown online banking. You can find a date, reviews restaurants, make a reservation, and even order your entire meal online. You can buy tickets to a movie online and even pick your theater seats. Yet when it comes to filing for divorce, we still have this old-fashioned notion that the process begins and ends in the office of an expensive divorce attorney costing thousands of dollars. Today, though, most people do not have thousands to throw around haphazardly. Every dollar spent on attorney fee's is one less dollar someone will have to rebuild their life post-marriage. The era of filing and completing all divorce forms and papers online is here, and the MyDivorcePapers platform, with its user-friendly structure, is the basis by which all others will be judged," said creative analyst Scott Cahill.
The company is expected to continue adding to its line of videos through its YouTube channel, with an expected video focusing on Texas divorce as well as utilizing other mediums to better inform the general public about the divorce process, divorce news, and divorce information.
For more information about online divorce papers please visit www dot mydivorcepapers dot com.