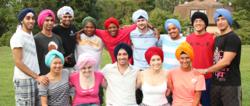 It doesn't matter what we wear or what we believe. We are all still Americans
Washington, DC (PRWEB) August 08, 2012
Team members at Seva Call, a startup company where 13 languages and countless cultures are represented between the five full time employees and twenty interns, showed their support of the victims of Sunday's shootings by wearing turbans to work on Tuesday. The three founders, all of whom are American Sikhs, gave employees a lesson about their religious heritage while teaching the team the traditional Sikh art of turban tying.
"It means a lot that all these people from such a wide range of cultures and backgrounds were willing to make this kind of statement in support of my culture," said Gurpreet Singh, who helped tie turbans on several interns himself. "It doesn't matter what we wear or what we believe. We are all still Americans."
Seva Call is a website designed to instantly connect consumers in need of service help with high quality local professionals on the phone. The founders dedicated time and resources to creating WhoAreSikhs.com. The website is designed to raise both money for the victims and awareness of Sikh culture in America. Since Sunday, the campaign has raised approximately $100,000 for the families of the victims.
The word "Seva" (pronounced SAY-vuh) in the company's name is also tribute to the Sikh culture. "Seva" means service in Punjabi, and the company is dedicated to "serving" consumers. The pronunciation gives the company's name a double meaning, because when pronounced properly, it sounds like "Save-a-Call" to English speakers, and saving users from making many calls is one of the primary goals of the service.
Seva Call launched its service in Washington D.C., Baltimore, Norfolk, Virginia Beach, and Richmond this summer, and plans to be helping consumers in Philadelphia, Boston, New York City, Pittsburgh, Hartford, and Providence before the end of the summer. The company will be nationwide within a year, and also has plans to release iPhone and Android apps in the near future.