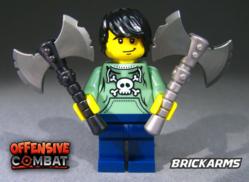 As gamers to the core, we've never outgrown the excitement of seeing our video games come to life. Now, we're doubling the fun by creating replicas of the Offensive Combat weapons specifcally for mini-figures.
Bellevue, WA (PRWEB) August 08, 2012
U4iA Games today announced that it has entered into an agreement with Redmond, WA-based BrickArms to bring several weapons from its upcoming browser-based, first-person-shooter game, Offensive Combat, to life as replicas for two-inch, building toy mini-figures. U4iA will also add a selection of BrickArms' most popular building toy weapons into the game as virtual items for players to use in their ongoing mission to annihilate the competition. BrickArms is a leading creator and supplier of building toy-compatible custom weapons, weapons packs, and mini figures. The first mini-figure weapons -- including the Battle Axe and Auger Shotgun, as well as in-game items -- will be available later this fall.
"As gamers to the core, we've never outgrown the excitement of seeing our video games come to life," said Dusty Welch, CEO of U4iA. "We've gone to great lengths to create some of the most fantastic weapons ever in a first-person-shooter. Now, we're doubling up the fun by creating replicas of these weapons specifically designed for mini-figures. We love the work BrickArms does and believe our fans will be equally thrilled when they see some of their favorite BrickArms weapons available in Offensive Combat."
"BrickArms fans are always on the lookout for new and exciting weapons with 'crossover' appeal," said Will Chapman, founder of BrickArms LLC. "To play a game like Offensive Combat online, and then turn around and play with dutifully recreated toy replica weapons in their mini-figure scaled world, is unprecedented. I am thrilled to have the opportunity to bring these high-quality toys to life, and I know they will be a hit."
Currently in closed beta, Offensive Combat features some of the most competitive multiplayer action ever seen within a web browser, enabling players to harness their skills and use their creativity and ingenuity to win the ultimate mash-up of first-person-shooters. The innovative gameplay and console-quality graphics, guided by industry veterans from Activision, Sony, and the Call of Duty and Guitar Hero franchises, offer an irreverent take on first-person-shooter archetypes, weapons and themes, including futuristic sci-fi, modern military, and surreal fantasy settings, among others. Offensive Combat will open up its beta program this fall. In the meantime, players can sign up at http://www.offensivecombat.com for a chance to enter the closed beta.
About U4iA Games:
U4iA Games is comprised of seasoned industry veterans with a shared ambition to create the future of gaming. Founded in 2011 by CEO Dusty Welch and CCO Chris Archer, the company's leadership was previously credited with the creation and growth of Call of Duty, Guitar Hero and other successful titles across nearly every PC, console, handheld, and mobile platform on the market today. Together, they established U4iA Games with the primary goal of bringing core, console-quality, free-to-play games like Offensive Combat™ to web browsers and mobile devices all over the world. Oh, and they enjoy partaking in "Doughnut Thursdays" every week!
For more information, visit http://www.U4iAgames.com; "like" us on Facebook at http://www.facebook.com/U4iAGames; and follow on Twitter at http://www.twitter.com/U4iAGames.
About BrickArms
Based in Redmond, Wash., BrickArms LLC is a small toy company specializing in original, custom-designed building toy-compatible weapons and custom mini-figs. All toys are original, and designed and produced to meet the highest standards of quality. Each BrickArms toy meshes seamlessly with other building toys, and thousands of builders worldwide have used BrickArms to explore new ways of building and play. For more information, visit http://www.brickarms.com.
# # #
U4iA and Offensive Combat are trademarks of U4iA Games, Inc. All other names are the trademarks of their respective owners.
U4iA Games, Offensive Combat logos and other media assets available at this link: https://www.dropbox.com/sh/asxnlgkiiputca5/qLDU-PIrMv