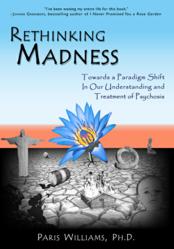 "The insights and theoretical postulates derived from [Rethinking Maddness] are important and likely to move the field forward in unexpected ways."
San Francisco, CA (PRWEB) August 08, 2012
Americans suffering from schizophrenia and psychosis have among the lowest rates of recovery in the world. American medicine also emphasizes medication for these conditions more than most.
Is that a coincidence?
A new book by psychologist Paris Williams presents compelling evidence that many mental illnesses we have come to regard as biological problems – brain chemistry gone awry – are in fact psychological issues: desperate attempts by the psyche to preserve a sense of identity or convey crucial messages.
"Rethinking Madness," emerged out of Williams' doctoral research at Saybrook University, the leading university for humanistic psychology in the United States. It synthesizes his own work with scholarly evidence from around the world to show that "full recovery from schizophrenia and other related psychotic disorders is not only possible, but may actually be the most common outcome given the right conditions – a finding that flies directly in the face of the mainstream understanding of these confusing disorders."
Such recovery depends, however, upon a process of psychological healing. Dr. Williams writes: "the individual we deem 'schizophrenic' or 'psychotic' is caught in a profound wrestling match with the very same core existential dilemmas with which we all must struggle." Resolving that struggle can only be accomplished through counseling and community. While medication can be useful to mitigate the symptoms of an acute episode, it is generally counter-productive to a long-term recovery.
Certain to be controversial, "Rethinking Madness" has received rave reviews from clinicians, therapists, and leading psychologists ranging from Robert Whitaker, winner of the George Polk award in medical writing, to Peter Stastny, M.D., who teaches at Columbia University's Department of Epidemiology, to leading existential psychologist Kirk Schneider.
They all believe that, in Stastny's words, "The insights and theoretical postulates derived from [Rethinking Maddness] are important and likely to move the field forward in unexpected ways."
For those who suffer from mental illnesses that decades of pharmaceuticals have failed to cure, this is a vital development.
Located in San Francisco, California and Seattle, Washington, Saybrook University is the world's premier institution for humanistic scholarship and research. Saybrook offers advanced degrees in psychology, mind-body medicine, organizational systems, leadership, and human science. For 40 years, Saybrook has empowered students to find their life's work and achieve their full potential. Saybrook's programs are deeply rooted in the humanistic tradition and a commitment to help students develop as whole people – mind, body, and spirit. Saybrook University is accredited by the Western Association of Schools and Colleges (WASC). It is also authorized by the Washington Higher Education Coordinating Board and meets the requirements and minimum educational standards established for degree-granting institutions under the Degree Authorization Act.
For more information, visit http://www.saybrook.edu