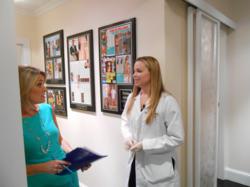 "This procedure has gotten raving fans in my office..." said Dr Zdinak.
(PRWEB) August 09, 2012
Call it what you will, athletes like Alex Rodriguez and Kobe Bryant swear by PRP, the process of injecting growth factors into injured body parts. By now everyone has heard of stem cells, growth factors, human growth hormone. Its the next frontier of medicine healing tissue naturally, utilizing some sort of youth factors, growth factors, stem cells, or in this case those growth factors known as PRP ( protein rich plasma)and injecting them into the site of injury.
Both Kobe Bryant and Alex Rodriguez went to Germany to receive this procedure. Angelina Jolie has been rumored to be a devotee as well. It is that "hot" and new, truly leading edge technology. Lisa A Zdinak, MD Chief Surgeon and medical director, a pioneer of so many new technologies, is one of the only ones that is using this latest breakthrough technology to repair faces.
"My greatest joy is finding new technologies from every corner of the planet, adding it to my already advanced arsenal to create a brand new protocol for my NY patients," said Dr Zdinak. She aded "This one was so much fun. I have long been an advocate of Mesotherapy, the injection of vitamins into the face, practiced by the French for over 50 years."
Ever wonder why the French women look so beautiful ? The typical Selphyl (one of the leading manufacturers of kits for this procedure) consists of using the patient's own growth factors, centrifuged from their blood, instead of traditional fillers. That alone has had a dramatic effect. The advantage over traditional fillers is that the Doctor is utilizing the patient's own growth factors which will absorb seamlessly and flawlessly in the most delicate areas like under the eye, and is actually repairing damage vs trying to place a filler in just the right spot to disguise damaged tissue or depressions.
"This procedure has gotten raving fans in my office. Adding to that an overall facial treatment via equipage (a Mesotherapy technique) was simply a logical extension to my way of thinking," said Dr Zdinak.
CBS's Katie McGee did a terrific interview to show and help viewers to better understand and see the results. So simply tune in August 10th to CBS WLNY to watch the next leap in technology for revitalizing and recapturing youthful skin and repairing wrinkles naturally, just like some of the top sports heroes did to their knees
Dr Zdinak is the Chief Surgeon and Medical Director of Precision Aesthetics at 10 West 74th St, long famous as New Yorks no 1 Thermage provider. Some of the most rich, powerful and beautiful count among her devotees in the secure knowledge that if it exists anywhere in the world, they can count on Dr Zdinak to offer it here. Amongs her many firsts are Carboxytherapy for Stretch Marks, Cryotherapy, the introduction of Exilis for fat reduction, as well as pretty much every new platform offered by Thermage in the past 5 years.