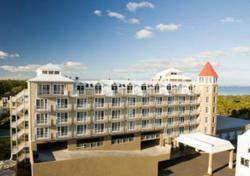 We're committed to providing travellers with a breadth of options across all locales and budgets
Sydney, Australia (PRWEB) August 10, 2012
Choice Hotels Australasia continues to show strong growth, with demand across all levels of its offer resulting in six new hotels joining the stable.
In the last quarter Australia's largest hotel franchisor has seen particular demand for options in New South Wales, Victoria and Tasmania.
Trent Fraser, Choice Hotel Australasia's Chief Executive Officer, says the company is focused on investing in regional as well as metropolitan properties at a time when increased international competition and a high Australian dollar has seen leisure travellers choosing to holiday abroad.
"Our strategy is simple. We're committed to providing travellers with a breadth of options across all locales and budgets to assist in stimulating domestic tourism," says Fraser.
Within Victoria, the luxurious 4.5-STAR Quality Suites Deep Blue offers Warrnambool accommodation boasting eight deluxe suites and five self-contained penthouses complete with day spa, onsite restaurant and coastal views.
In Melbourne, those seeking an urban escape are covered with the 60 room 3.5-star Comfort Inn Lygon Lodge which offers boutique Melbourne accommodation in the vibrant food precinct of Carlton whilst the 4.5-STAR Quality Hotel Taylors Lakes provides accommodation in Taylors Lakes, Melbourne with a full-service option complete with 'Starlight' conferencing centre that can accommodate up to 400 guests.
Regional New South Wales' options have also been bolstered with the 3.5-STAR Econo Lodge Albury Paddlesteamer Motor Inn complete with 61 room serviced suites and an on-site restaurant.
Head further north and the 3.5-STAR Comfort Inn Harvest Lodge offers a more intimate country break in accommodation in Gunnedah, to explore nature while keeping those creature comforts close at hand.
The group's reach has also extended further within the Apple Isle, with the 3.5-STAR Comfort Hotel Burnie proving an ideal place to explore Tasmania's north-west coast or simply sit back with a pint of Guinness at the onsite Maginty's Irish Bar and Restaurant.
Choice Hotels Australasia has 270 hotels across Australia, New Zealand and Singapore, with in excess of 14,000 rooms. Choice Hotels Australasia is a 100 per cent owned subsidiary of Choice Hotels International, a publicly listed company in the United States with more than 6,100 hotels and 495,000 rooms in more than 30 countries and territories.