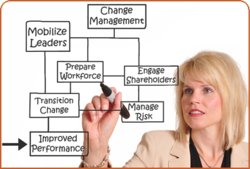 reaching a new level of social and environmental sustainability is something that requires hard work, a substantial commitment of time and a strong level of leadership.
New York, New York (PRWEB) August 07, 2012
Even in the midst of the economic turmoil of recent years, an impressive 93 percent majority of Chief Executive Officers indicate their belief that sustainability is an essential component of their firms' ultimate success. Mandrien Consulting Group notes that many of those same CEOs believe that within the next ten years, a critical juncture will be reached in which sustainability is inextricably linked with the processes, systems, capabilities, subsidiaries and supply chains of their core businesses.
Mandrien Consulting Group based its observations from findings in a sustainability study released by the United Nations Global Compact. The survey was comprised of an online element as well as comprehensive interviews of 50 of the most influential CEOs in the world. The research represents the largest examination of sustainability involving industry leading executives ever undertaken.
Entitled "A New Era of Sustainability: UN Global Compact - CEO Study," the research conducted indicates that the economic difficulties of recent years has had far less of an impact on corporate dedication to sustainability than might have been expected. The truth is that the opposite phenomenon appears to have occurred. 8 out of 10 CEOs surveyed declared that the recession has caused them to focus more intently on sustainability issues. Businesses working to cope with the effects of the financial downturn have come to see sustainability initiatives as a path to greater efficiency and increased profit. Furthermore, a large number of firms believe sustainability is a crucial factor in new market expansion in advance of a return to more typical economic conditions.
Mandrien Consulting Group research into the study shows that a large number of firms have truly begun to hone in on sustainability as a cornerstone of their businesses. A 2007 survey of a similar nature revealed that 50 percent of the participating CEOs had made sustainability issues a key part of their corporate operational strategy. The 2010 study saw that figure rise to 81 percent.
A large number of CEOs suggested that while global hurdles remain substantial, great strides have been made in recent years toward bringing sustainability strategies full circle from development to execution. Mandrien Consulting Group finds this evidence quite compelling.
CEO of Mandrien Consulting Group Rusty Solomon emphasized that reaching a new level of social and environmental sustainability is something that requires hard work, a substantial commitment of time and a strong level of leadership. He went on to underscore the fact that two-thirds of all CEO respondents in this survey view the Global Compact as an essential resource for sharing new ideas about sustainability and for the communication and establishment of best practices.
The survey also revealed the key role CEOs must play in persuading investors of the essential role sustainability strategies can play in terms of improving the bottom line and winning back the confidence of firm stakeholders in the aftermath of the worldwide financial downturn.
According to Solomon of Mandrien Consulting Group, CEOs in large numbers stated that they have had to assume a defensive stance during the recent economic difficulties, but now feel prepared to take the reins when it comes to syncing sustainability concerns with their core strategies and implementation tactics. Researchers at Mandrien Consulting Group further noted that executives know they must now take a strong leadership role in making sure sustainability remains an entrenched element of their business plans, in diligently overcoming obstacles in the areas of performance management and supply chains and by doing everything possible to influence customer preferences in such a way that makes sustainability profitable. Mandrien Consulting Group stands ready to help industry leaders and CEOs accomplish these objectives and more.
The survey results show a trio of corporate characteristics that includes trust, brand and enterprise reputation comprise CEOs' main areas of concern when it comes to sustainability. These elements were cited by 72 percent of all study participants as being among the most significant motivating forces within their businesses. Just behind those three attributes in level of emphasis were: the ability to boost revenue and achieve cost reductions (44 percent of respondents), personal drive and ambition (42 percent), customer and market demand (39 percent) and the retention and enthusiasm of employees (31 percent).
Mandrien provides business process outsourcing counsel, process optimization and corporate strategic planning for many industries. Mandrien offers unrivaled practical and technical experience in the insurance industry.
For more information, go to http://www.mandrien.com.