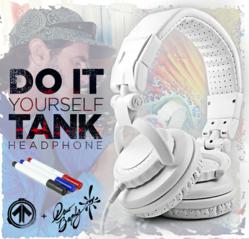 (PRWEB) August 28, 2012
For the first time in history, AERIAL7 puts the power to design headphones in the hands of individual listeners. The AERIAL7 TANK DIY Headphone allows people to express their individual style and showcase their artistic ability with customizable headphones. The TANK DIY features thick ear cushions and an adjustable headband for a perfect fit along with AERIAL7's superior DJ inspired sound quality. The starter kit includes (markers) to get the design process started but don't stop there, there are many different mediums to be explored on these headphone canvases. Listeners are sure to be amazed with all the different parts of the headphone that can be customized; the possibilities are endless!
One Artist in particular inspired the creation of the DIY Tank Headphone, AERIAL7 Ambassador Drew Brophy. Drew's artwork has been featured in several magazines including Surfer Magazine and was developed into a book titled: How to draw with Drew Brophy. Drew also designed many other custom products including Converse shoes, Indo boards, Sector 9 skateboards and AERIAL7 headphones.
With some help from Drew, designing your first TANK DIY Headphones is as easy as 1…2…3!
1. Get Inspired:
Drew finds his inspiration in "nature, surfing and the stoke of people doing what they love. Like seeing a kid skateboarding down the street after school, or some old man going out surfing at sunset."
2. Get in the Zone:
Drew Brophy's artwork would not be possible without his music; while working on each piece he listens to the same album. "If the painting takes days to complete, I play that same album day after day; it brings me right back to where I left off, keeping the flow and energy of the painting."
3. Get to Work:
-"First, don't stress about making them perfect. Use a pencil, sharpie pens, magic marker, Uni Poscas, spray paint, whatever. "
-"Start to doodle and let it grow, or you can plan it out as a rough sketch on paper."
-"Just make it fun! There are no rules – they are your headphones. Give them a unique personality!"