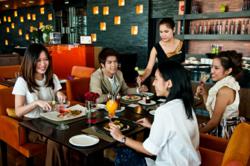 Bangkok (PRWEB) August 09, 2012
Introducing the all-new a la carte menu at VIE Wine & Grill. Designed by VIE Hotel's French executive sous chef, the menu includes a wide variety of traditional French gourmet dishes that compliment each other. VIE Hotel's head chef, who recently completed a workshop with the legendary Marco Pierre White, adds a modern twist with some signature culinary creations.
The new menu entices with delights like traditional Caesar salad topped with a slow-cooked egg cooked at 62 C, a sumptuous escalope of foie gras, French toast accompanied by tangy raspberry puree, or lush cream of cauliflower with warm milk foam and roasted almonds. Enjoy creative entrées that include the signature 3-star Michelin-inspired dish, Hokkaido scallop with XO risotto and Japanese mushrooms in a yuzu butter sauce and Shaoxing wine emulsion, a flavourful homemade duck confit with Lyonnaise potato, wild mushroom and port wine sauce, or the divine Chilean sea bass fillet with mash potatoes, fresh herb and truffle oil. Finish every culinary journey with VIE Hotel on a high note with tempting desserts such as the refreshing sweet mango mousse cake with mango puree or the delightful espresso Tiramisu.
The award-winning, VIE Wine & Grill is a chic and sophisticated restaurant renowned for its exquisite cuisine and an impressive selection of New and Old World wines. The discerning readers of the Thailand Tatler magazine voted it 'Best Restaurant' in 2010, 2011, and 2012 for exceptional cuisine and service.
With a comfortable lounge area and an informal ambience, VIE Wine & Grill is the perfect venue for after-work drinks and casual dining with friends, clients or business associates. Here, guests can enjoy an exceptional choice of beverages including a selection of specialty labels from the well-stocked wine cellar, all competitively priced.
VIE Wine & Grill is open daily from 06.30-10.30 pm. For more information and reservations, please contact +66 (0) 2309 3939, fb(at)viehotelbangkok(dot)com and http://www.facebook.com/viebangkok
About VIE Hotel
VIE Hotel Bangkok by Accor, is a contemporary and creative venue located in the heart of the city, just steps away from the Ratchathewi BTS station and Siam Paragon, Platinum, and MBK shopping malls. The chic five-star hotel received its latest recognition of 'Best Boutique Hotel' from AsiaRooms.com. VIE Hotel Bangkok has also won the "Trendy in Asia" award in the Tripadvisor Traveler's Choice Awards, the "Best Newcomer in Bangkok" award from Wotif.com, and has been nominated as "Best Urban Hotel" by Anywhere Magazine. Its restaurant, VIE Wine & Grill has also received "Thailand's Best Restaurant award for 2010, 2011, & 2012" from Thailand Tatler's Best Restaurant Guide.
About MGallery
MGallery is a collection of upscale hotels notable for their personalities, which will appeal to individual travelers seeking distinctive services or looking for a place with more soul. In the city centre as well as in tourist hotspots, each hotel in the collection offers a distinctive environment in which to fulfill an authentic experience that revolves around a philosophy of pleasure. This is particularly true of the Baltimore, which offers an incomparable sensory culinary journey in its starred restaurant. This is also true of the exceptional site of the Cour du Corbeau in Strasbourg, a real timbered house, a maze of nooks and passageways that has travelled through five centuries of history and known illustrious guests such as Frederick II, King of Prussia, Voltaire... A collection of hotels like so many different worlds. Launched in September 2008 by Accor, it now covers five continents and will grow to over 150 locations by late 2015. Everything you need to know about MGallery hotels can be found at the mgallery.com website.