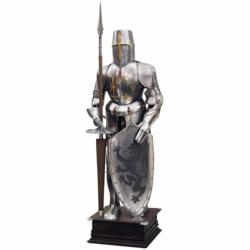 These collectibles are handcrafted by Marto, a top manufacturer crafting armor in the traditions of Spain.
(PRWEB) August 09, 2012
Historical Clothing Realm goes beyond its namesake, offering not only a unique assortment of garments, but a line of suits of armor imported from Spain. Historical Clothing Realm proudly connects with a world famous manufacture Marto of Spain. With their line of hand-crafted suits of armor, HCR bolsters their offering of suits of armor. These collectibles are handcrafted by Marto, a top manufacturer crafting armor in the traditions of Spain.
One of the site's most popular collectibles is the Crusader Knight Suit of Armor. Marto modeled this particular suit after those used during the reigns of Charles V and Philip II, which are now part of the Real Armeria collection in Madrid. The armor is full-sized and fully-articulated. Each portion is handcrafted from polished steel or iron and finished with an old patina to give the appearance of age.
The full Crusader Knight suit includes a breastplate featuring the royal fleur-de-lis and the Crusader's cross, as well as a metal shield decorated with a rampant lion. The armor also has a panoplia fit suitable for tournaments and comes complete with a jousting lance. A fabric gown also comes with the set, made of brocade that reflects the patterns of the age of the knights.
Historical Clothing Realm also features two sets of armor from the era of Carlos V. The first is the Etched Suit of Armor, characterized by its floral etchings. This collectible stands over 6' 7" tall when displayed. The second set is the Carlos V Golden Plated Suit of Armor. Fit for royalty, this armor is etched with 24-karat gold throughout the steel and iron pieces. Both Suits of Armor come with two ostrich plumes to insert into the helmet, a Carlos V sword, and an arabesque fabric gown.
The site also offers three suits of armor from the reign of Philip II to reel in the avid history buff. All Marto products include a premium wooden stand with reinforced metal angles to put these medieval treasures on display.
Marto was founded in 1961 in the old district of Toledo, Spain to regain the traditional blacksmithing techniques. Toledo steel is famous for its history and artistry, particularly their swords which are made with a secret technique that is passed down from generation to generation. The "Marto Toledo" mark guarantees authentic, quality products.
Visit Historical Clothing Realm's website to peruse their full collection of medieval goods: http://www.historicalclothingrealm.com/armor-suits-of-armor.html