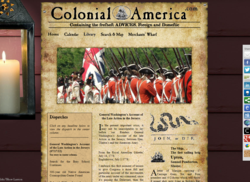 Warwick. RI (PRWEB) August 12, 2012
Devotees of colonial and early American history have heretofore had to pursue their passion piecemeal, flitting from website to website to discover the latest news, information and events related to this fascinating era that holds so many captive.
Now, with the launch of ColonialAmerica.com, all of the above and more can be accessed in one central location. The new web portal will offer visitors a smorgasbord of features focusing on the period spanning the mid 16th to the early 19th centuries. They include news and original articles on the history, archaeology and preservation of our colonial heritage; a calendar of upcoming events and reenactments; a library of videos covering a multitude of topics, including Jamestown, Plymouth, the French and Indian War, the American Revolution, the War of 1812, and many others; and a searchable database featuring thousands of Colonial and Early American historic sites and markers.
ColonialAmerica.com is also a marketplace for a diverse selection of books, music, videos and art. A number of additional features including a greatly expanded marketplace listing tours, inns, bed and breakfast and other colonial-themed travel opportunities are planned for rollout soon.
ColonialAmerica.com is the creation of Vernon Elliott, who as a child living in Fort Eustis, Virginia—near Williamsburg, Jamestown and Yorktown—became an avid visitor to these historic venues and cultivated a lifetime love of colonial times. The idea for the website crystallized with his purchase of an original copy of The Providence Gazette and Country Journal, the first newspaper published out of Providence in the Colony of Rhode Island beginning in 1762.
"The Internet gives us a wonderful opportunity to compile, explore and share the legacies of this extraordinary era," says Elliott. "With ColonialAmerica.com, I endeavored to create a living archive and online repository where every enthusiast can find a rich assortment of things to learn, do and acquire to indulge their passion for all things colonial."
Elliott adds that ColonialAmerica.com is an excellent resource for teachers and students wishing to supplement their knowledge of American history, bringing to life the people and events that shaped the foundations of our country. Many additional features for the website are planned.
For more information on this historic new web portal, or to inquire about advertising opportunities on ColonialAmerica.com, please email support(at)colonialamerica(dot)com or call 401-415-6174.