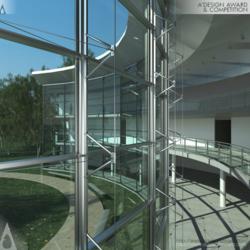 Como, Italy (PRWEB) August 09, 2012
A' Award and Competitions are proud to inform that the project Glasswave by Charles Godbout and Luc Plante has been awarded with the prestigious Golden A' Design Award in Building Materials, Construction Components, Structures & Systems Design Category picked as a winner by the transnational arbiters of the A' Design Awards & Competitions amidst thousands of projects.
Winner Design: Glasswave
Charles Godbout and Luc Plante, the lead designer of the winning work Glasswave explains "The GLASSWAVE multiaxial curtain wall system opens the door to greater flexibility in designing glass walls for mass production. This new concept in curtain walls is based on the principle of vertical mullions with cylindrical rather than rectangular profiles. This definitively innovative approach means that structures with multidirectional connections can be created, increasing tenfold the possible geometric combinations in glass wall assembly. GLASSWAVE is a low-rise system intended for the market of distinctive buildings of three floors or less (majestics halls, showrooms, atriums etc.)" To learn more visit: http://www.adesignaward.com/design.php?ID=25164
Project Members for Glasswave
Glasswave was imagined by Charles Godbout, industrial designer and Luc Plante, architect.
The Golden A' Design Award
The Golden A' Design Award is a prestigious award given to top 3% percentile designs that has delivered an exemplary level of sublimity in design. The designs are judged by a panel of three different jury which is composed of Academic, Professional and Focus Group Members. The designs are evaluated with score normalization to remove any biases and are voted on aspects such as functionality, ergonomics, engineering, presentation, innovation, usability, fun details, technology, and any other specific points that could be considered, each of these points are further weighted for different jury groups.
About A' Design Award and Competitions
A'Design Award and Competitions, aims to highlight the excellent qualifications of best designs, design concepts and design oriented products. A' Design Award and Competitions are organized and awarded annually and internationally in multiple categories to reach a wide, design-oriented audience. Learn more: http://www.whatisadesignaward.com