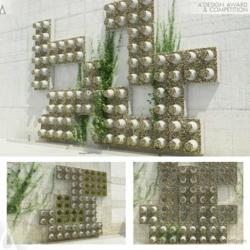 Como, Italy (PRWEB) August 13, 2012
A' Award and Competitions are pleased to announce that the project D-Eco Brick by Hakan Gürsu has been honored with the famed Bronze A' Design Award at Building Materials, Construction Components, Structures & Systems Design Competition marked as a winner by the respected judges of the A' Design Awards & Competitions amidst numerous participants.
Regarding D-Eco Brick
Hakan Gürsu, the creator of the awarded design D-Eco Brick says "DecoBrick is a decorative product in which used plastic cups are employed in an environmentally friendly way. DecoBrick has come to life as an answer to the question 'How can we use this plastic waste of cups and pet bottles in the most efficient way?'. This design uses 4 to 6 pieces of plastic waste that are placed in a simple plastic mold, which later form a 3D brick system. The system can be used at building walls, gardens and in many different areas." Learn more about the award winning design: http://www.adesignaward.com/design.php?ID=25417
The Bronze A' Design Award
The Bronze A' Design Award is a prestigious award given to top 10% percentile designs that has delivered an exemplary level of perfection in design. The designs are judged by a panel of three different jury which is composed of Academic, Professional and Focus Group Members. The designs are evaluated with score normalization to remove any biases and are voted on aspects such as functionality, ergonomics, engineering, presentation, innovation, usability, fun details, technology, and any other specific points that could be considered, each of these points are further weighted for different jury groups.
About A' Design Award and Competitions
A'Design Award and Competitions, aims to highlight the excellent qualifications of best designs, design concepts and design oriented products. A' Design Award and Competitions are organized and awarded annually and internationally in multiple categories to reach a wide, design-oriented audience. Learn more at: http://www.whatisadesignaward.com