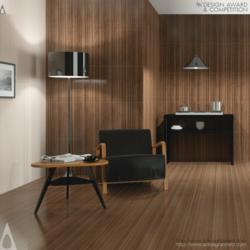 Como, Italy (PRWEB) August 14, 2012
A' Award and Competitions are proud to inform that the design Eramosa by Bien Design Team has been granted the prestigious Bronze A' Design Award in Building Materials, Construction Components, Structures & Systems Design Category picked as one of the winners by the transnational awarding commission of the A' Design Awards & Competitions among numerous submissions.
Concerning Eramosa
Bien Seramik, the creator of the awarded design Eramosa demonstrates "Eramosa: Masculine… Series with natural and warm color tones, contain a soft and a pleasant contrast and sheds light on the different options with its wide usage range. Series which preserves the naturalness until the last point with fine-grained view wall 21x63 and 40x40 floor tile dimensions produced, being rectified, and embodies all of the benefits of digital technology. 21x63 sized Edera and Leaf decors adds dynamism to the simplicity of the series. " Learn more and download high-resolution photos at: http://www.adesignaward.com/design.php?ID=25810
The Bronze A' Design Award
The Bronze A' Design Award is a prestigious award given to top 10% percentile designs that has delivered an exemplary level of perfection in design. The designs are judged by a panel of three different jury which is composed of Academic, Professional and Focus Group Members. The designs are evaluated with score normalization to remove any biases and are voted on aspects such as functionality, ergonomics, engineering, presentation, innovation, usability, fun details, technology, and any other specific points that could be considered, each of these points are further weighted for different jury groups.
About A' Design Award and Competitions
A'Design Award and Competitions, aims to highlight the excellent qualifications of best designs, design concepts and design oriented products. A' Design Award and Competitions are organized and awarded annually and internationally in multiple categories to reach a wide, design-oriented audience. To learn more visit: http://www.whatisadesignaward.com