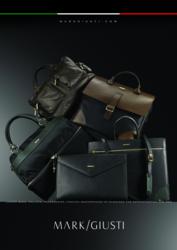 Your products are so beautiful
(PRWEB UK) 8 August 2012
The latest addition to Luxury Artisan's portfolio of luxury leather goods brands is MARK/GIUSTI. Mark Farhat founded MARK/GIUSTI in 2009 with the aim of creating luxurious products that combine a perfect union between function, design and historic art. The result is a beautiful collection of handmade leather luggage, briefcases and leather accessories, which can now be bought online at Luxury Artisan.
Each piece is entirely handmade in Italy, using the finest quality calf leather and materials. What makes the products unique is that each piece is lined with a pattern design, inspired by original mosaic patterns found in various churches across Italy. One example is the lining of one of the leather laptop bags, which is inspired by the original mosaic decorations found in the Cappella Palatina in Palermo, Sicily, built in the 12th Century.
Mark's passion for mosaics is largely influenced by his extensive travels throughout Africa, the Middle East and Europe as the son of a diplomat. Attention to detail is Mark's signature, and this can be seen in the subtle contrast top stitching, as well as the specifically designed interior compartments and organiser bags for shirts, shoes and laptop cables.
MARK/GIUSTI's philosophy is well aligned with that of Luxury Artisan, in that its products are handmade by local craftsmen using the finest quality leathers. The functionality of the products, as well as timeless design, is considered in detail with the customer in mind.
About Luxury Artisan:
Luxury Artisan is an internet retailer of luxurious Italian leather products
All products are handmade in Italy using the finest quality leathers and materials
Since launch in 2011, Luxury Artisan has supplied quality leather goods to customers globally
Follow Luxury Artisan:
Facebook: LuxuryArtisan
Twitter: @LuxuryArtisan
Pinterest: LuxuryArtisan