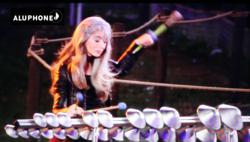 "For my part I was delighted to introduce the Aluphone to Danny Boyle and his creative team." - Dame Evelyn Glennie
London, England (PRWEB) August 10, 2012
With an estimated one billion viewers looking on, Dame Evelyn Glennie introduced the world to the Aluphone with her performance during the climax of the 2012 Olympic Summer Games opening ceremony.
The Aluphone produced the gentle tones and perfect atmosphere of wonderment as the seven young British athletes circled the Olympic Stadium, cauldron in hand.
"For my part I was delighted to introduce the Aluphone to Danny Boyle and his creative team. In turn, I believe its beautiful tone and sound colour have been incorporated into, what I hope, will become an iconic piece of music helping to introduce this exciting new instrument across the globe," said Evelyn Glennie following her performance.
The Aluphone is a 2 ½ octave mallet instrument consisting of varying sizes of hand-molded aluminum bells. It is used in a diverse range of musical styles from jazz and rock to classic and avant-garde and can be played to resemble soft, Asiatic bells or more harmonic church bell sounds.
"The Aluphone is already being played by several of the top drum and bugle corps in the United States along with jazz musicians, orchestras and church choirs," says Kai Stensgaard, one of the developers and an internationally renowned marimba soloist. "Its sound is truly unique, but might be described as a mix of a vibraphone, gamelan and Tibetan singing bowl. It can produce a wide range of sounds depending on the type of mallet being used."
Stensgaard oversees production of all Aluphone bells, helping to ensure authenticity and quality. Aluphone bells can be mounted in varying configurations or even used as individual hand held bells, making them flexible for all kinds of percussion arrangements.
Opportunities are available for becoming an authorized Aluphone dealer. Contact us for more information on how to get started.
About our company:
Aluphone produces the original Aluphone series of hand-molded bells and musical instruments. Aluphone bells are used by professional percussionists, orchestras and choirs worldwide.