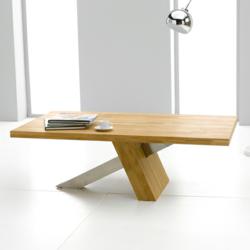 FurnitureInFashion Announce the Launch of the Antonio Oak Coffee Table
(PRWEB UK) 23 August 2012
FurnitureInFashion is pleased to announce the launch of its new Antonio Oak coffee table. The company already has an extensive range of oak furniture and Antonio oak coffee table has further added depth and more options in the oak furniture. The coffee table is a unique and practical addition to any living room. The Antonio oak coffee table is a splendid blend of modern and traditional designs and this amalgamation makes this coffee table ideal for modern furniture and traditional homes. On the launch of Antonio Oak coffee table, the owner and Managing Director of FurnitureInFashion Asad Shamim said,
"FurnitureInFashion has launched a new range of Antonio oak furniture which comprises of dining tables and chairs lamp tables and coffee tables. Our brand of Antonio oak coffee table is the ultimate mixture of a fresh range which will make a style statement in any dining or living room."
FurnitureInFashion has launched its Antonio oak furniture range that combines the modern and traditional elements. This range offers dining tables and coffee tables with an exclusive modern style by combining Brushed Metal with Solid Oak. This combination has also been incorporated in the Antonio Oak coffee table as well which makes this table an ideal addition for a home. The solid Oak in the Antonio coffee table is finger jointed with a smooth oil finish. This table can match any set of items in the existing décor. Mr. Shamim said, "The craftsmen at our German based warehouse and manufacturing plant have worked very hard in choosing 100% oak. They have beautifully carved the oak without any veneer or other mixtures. The entire table is made of naturally forested oak which makes this table a very warm addition to any décor. This coffee table can go best with a tropical themed décor."
Antonio oak coffee table has been made from solid oak and stainless steel. The frame of this table is extremely durable and supportive. In addition to this, the finger jointed design ensures more durability. This table has a quirky design with 1 oak and 1 brushed stainless steel leg. These legs cross each other and give a very modern and high end look. The overall look of this table is chic due to oiled oak finish. Mr. Shamim said, "FurnitureInFashion wants to clear that this is not part veneer or part solid oak furniture as seen in many online stores and high street outlets. This is the finest 100% oak coffee table. The Antonio coffee table is not mass produced flat pack furniture but comes fully assembled."
Antonio oak coffee table captures the true charm and beauty of country style furniture. Its uncluttered look makes it ideal for even small living rooms. The detailed dimensions and measurements of Antonio oak coffee table comprises of 130 cm Length, 80 cm diameter and 42cm height. If any of the customers wants to place a special order of Antonio coffee table, the minimum delivery time will be 10-15 working days. Mr. Asad said, "Antonio oak coffee table is an excellent solution for your living room requirements.
Oak coffee table is available at affordable price and is set to gain popularity among our customers for its slander structure and great modern finish." He also said that FurnitureInFashion has one simple aim, to provide consumers with 100% solid oak furniture with no mdf, chipboard or veneer. FurnitureInFashion is offering an extensive range of oak furniture that can be found on its website's catalogue.
About FurnitureInFashion
FurnitureInFashion is a UK based online retail shop with a manufacturing plant based in Germany. The company directly supplies furniture products from its German based warehouse. It supplies over 7000 furniture products for living room furniture, dining room furniture, dining table and chairs, dining tables, bedroom furniturebedroom, hallway, bathroom, kitchen, bar and office. For further information and details visit: http://www.furnitureinfashion.net