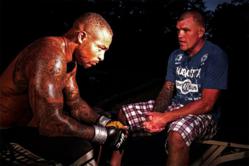 Evans, GA (PRWEB) August 08, 2012
Tickets are on sale for the live webcast of the upcoming August 11th MMA fight, Fight Night At The Point 6, a Mixed Martial Arts event from Conflict MMA Promotions. The fight, which will be broadcast via a live stream webcast, will be held in Mount Pleasant, South Carolina, at 6:30 p.m. on August 11, 2012, and will include MMA fighters from the reality TV show Georgia Boy's Grits n' Glory.
Georgia Boy's Grits n' Glory, produced by Reflecting Pool Productions, is a reality show following the lives of several amateur MMA fighters. The show is filmed mainly at the Augusta Fight Club, a small invitation-only gym that trains MMA amateur fighters that want to go pro.
One of the reality TV show's fighters is on the card for Fight Night At The Point 6: Tyrone "Teesta" Mims. The two co-owners of the gym, Chris "Georgia Boy" Hauser and Bart "Ironman" Weeks, will be ringside providing commentary during the fights for webcast viewers, as well as interviews with the winners of each fight.
Ticket information for the live webcast is available at http://interface.audiovideoweb.com/ppvlnk/purchase, or on the Georgia Boy's Grits n' Glory website, http://www.gaboysgritsnglory.com. Webcast tickets are on sale for $19.95.
The Georgia Boy's Grits n' Glory website also provides information about the show, its cast, and guest stars like actor Justin Wheelon and Georgia heavyweight MMA champion Nick Smiley. Webcasts are available there, as well as chat rooms for viewers to discuss the fights in real time. Additionally, visitors will be able to check up on the reality show with recaps, view the cast, read the blog, and see behind the scenes photos in the photo gallery.
For the latest information about Georgia Boy's Grits n' Glory, including photos, interviews, events, video clips, ticket information, and more, visit their Facebook page at http://www.facebook.com/GeorgiaBoysGritsNGlory. Check in regularly to keep up with the members of the Augusta Fight Club and watch as Georgia Boy and Ironman prepare for their own fights later this year!
About the company
A reality show based on the lives of a group of fighters who train at a small backwoods gym called "The Augusta Fight Club". They are there by invitation only and compete in MMA amateur fights in the attempt to go pro. The show is a crossover of Swamp People meets Gator Boys, meets the Ultimate Fighter. It is set in the south in a very country setting, but the fights are real and the drama is real. For more information go to their website at http://gaboysgritsnglory.com