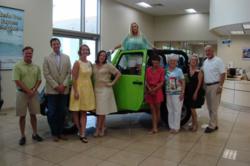 Gulf Shores, AL (PRWEB) August 08, 2012
Community focused leaders from the Alabama Gulf Coast put their heads together to begin securing details for the esteemed annual American Heart Association "Art for Heart" fundraiser. Scheduled for April 13, the 2013 event will be held at a private residence on Ono Island, providing an eloquent location and atmosphere for this prestigious annual affair.
A plan is already securely in place to reach the fundraising goal of $160,000. The intention is to help fight heart disease and stroke along with aiding people in living healthier, more fulfilling lives. Already assigning chair positions and formulating committees to execute specific tasks in preparation for the detailed 2013 event, the upcoming "Art for Heart" is off to an amazing start.
"The funds raised through the 'Art for Heart' fundraiser will go towards raising awareness and education for heart disease and stroke prevention within our community," stated Christina Quick, Senior Regional Director of the American Heart Association's Alabama Gulf Coast chapter. "The local funds raised will stay within our communities and will help to fund 'free of charge' programs within local business and hospitals."
"Art for Heart" places an emphasis on raising awareness for children's heart disease, the number one birth defect present in this country.
Photo: "Art for Heart 2013.jpg" attached
Caption: From left: John Blanchard, Co-Chair, Gulf Chrysler Dodge Jeep; Nick Wilmott, Community Health System; Christina Quick, Senior Regional Director, American Heart Association; Emily Gonzalez, Marketing and Public Relations Director, Kaiser Realty; Carol Lee Aldridge (in Jeep); Jennifer Blanchard, Co-Chair, Gulf Chrysler Dodge Jeep; Tommie Werneth, Baldwin EMC Board; Jane Tyler, Precision Imaging; Leonard Kaiser, President, Kaiser Realty, Inc.
Contact:
(251) 968-6868
Follow Up Questions: Emily E. Gonzalez, Marketing/Public Relations Director EmilyG(at)KaiserRealty(dot)com
Written and Distributed By: Adam Pfaff, Public Relations Coordinator AdamP(at)KaiserRealty(dot)com
http://www.KaiserRealty.com
About Kaiser Realty, Inc.: Since 1980, Kaiser Realty, Inc. has been renting, selling and managing the finest vacation homes and condominiums available in Gulf Shores and Orange Beach. With the blue green waters and sugar white sand beaches of the Gulf Coast, it is hard to find a more beautiful location for your next home or home-away-from-home. Offering Gulf front condominiums ranging from 1 to 6 bedrooms and vacation homes sleeping up to 30 people, Kaiser Realty will help you create the perfect vacation, retreat, wedding or work function. Visit us at http://www.KaiserRealty.com or call (800) 225-4853 to speak with one of our Reservation Professionals, Sales Representatives or Rental Managers today!
Corporate Mission: "Kaiser Realty, Inc. has a tradition of fulfilling dreams for our customers, our employees and in our community. Our philosophy is to deliver exceptional, professional service with integrity, enthusiasm and a genuine caring attitude. Whether it's for a vacation or a lifetime, our family is committed to yours."