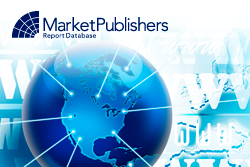 London, UK (PRWEB) August 08, 2012
By the end of 2012, the U.S. market for personal protective equipment (PPE) is poised to top USD 13 billion. With the economy beginning to perk up, U.S. PPE sales in the U.S. are expected to exceed USD 14.1 billion in 2013, up 8.2% YoY. The strengthening global economy is predicted to increase the growth rate, with U.S. PPE sales anticipated to hit the USD 16.7 billion mark in 2015.
New market research report "Personal Protective Equipment in the U.S." elaborated by SBI has been recently published by Market Publishers Ltd.
Report Details:
Title: Personal Protective Equipment in the U.S.
Published: July, 2012
Pages: 269
Price: US$ 3,960.00
http://marketpublishers.com/report/industry/machinery_equipment/personal_protective_equipment_in_us.html
The report draws up an elaborate picture of the personal protective equipment market in the United States. It presents data on shipments, imports and exports for the market and its four categories. In most cases, historical data are provided for a 10-year period back to 2002. The study also identifies key economic and market trends affecting the industry and profiles key manufacturers, highlighting their strengths, performance, product portfolios and significant recent events. Furthermore, marketing, distribution and retail overview as well as a detailed end-user segment analysis is also included.
Market categories covered are: body protection and protective clothing; hand and foot protection; head and face protection; and respiratory protection.
Report Contents:
Chapter 1 Executive Summary
Scope
The Regulatory Environment
OSHA
OSHA's Voluntary Protection Programs (VPP)
Figure 1-1: Top 15 Industries in the VPP (Federal) as of January 31, 2012
OSHA Inspections
MSHA
NFPA
ANSI
PPE Standards
Employer Duty to Pay
Methodology
Figure 1-2: U.S. Market for Personal Protective Equipment, 2002 through 2011 (in US $ million)
Historical sales by product category
Table 1-1: Historical PPE Sales for the period from 2007 through 2011 (US $ millions)
Table 1-2: Year-to-year sales growth by category 2007 through 2011 (%)
Projected sales growth
Figure 1-3: Projected U.S. PPE sales growth from 2012 through 2017 (US $ million)
Table 1-3: Projected year-to-year sales growth for the period 2012 through 2017 (%)
Table 1-4: Projected changes in market share by category for the period 2012 through 2017 (%)
Table 1-5: Projected U.S. shipments of body protection/clothing for the period 2012 through 2017 (US $ million)
Economic Factors
Table 1-6: Change in GDP, 2001 - 2011
Global Economic Factors
Table 1-7: Historical and forecast global real gross domestic product (percentage change over previous period)
Rising Manufacturing Costs
Commodity Price Increases
Figure 1-4: 13-month percentage changes in coarse wool prices
Figure 1-5: 13-month percentage changes in fine wool prices
Figure 1-6: 3-month percentage changes in cotton prices
Figure 1-7: 13-month percentage changes in leather hide prices
Figure 1-8: 13-Month Percentage Changes in Plastic Prices
Figure 1-9: 13-Month Percentage Changes in Rubber Prices
Workplace Injury, Illness and Fatality Trends
Table 1-8: Summary of Private Industry Incident Rates (Source: BLS)
Occupational Injuries & Illnesses
Table 1-9: Number of recordable cases, 2008 – 2010.
Table 1-10: Leading event or exposure for selected occupations, all ownerships, 2010
Preparing for an Aging Workforce
Obesity and PPE
Rising Insurance Costs
Figure 1-10: Average Annual Increase in Family Health Insurance Premiums Compared to Other Indicators, 2000 – 2011.
Style, Customization & Comfort Factors
PPE Misuse Linked to Lack of Comfort
Manufacturer Distribution Points: Mostly Intermediary
Sales Force Structure
Marketing & Promotion
Internet Will Play Increasingly Greater Role in promoting PPE
Social Media
Mobile Applications
Workplace Safety Blogs
Governmental Agencies Promoting PPE
Trade Shows
Table 1-11: Upcoming Safety Conferences and Expos, 2012-2013
PPE in the Workplace
Understanding Demand for PPE in the Workplace
Table 1-12: Top 10 Most Common Injuries at Work
Overview of the Four Key Sectors That Utilize PPE
Natural Resources & Mining Sector
Growth Potential
Figure 1-11: Number of persons employed in coal mining 1985 through 2010
Construction
Employment Trends in the Construction Sector
Table 1-13: Construction Employment 2002 through 2011 (thousands)
Manufacturing
...
More new market research reports by the publisher can be found at SBI page.