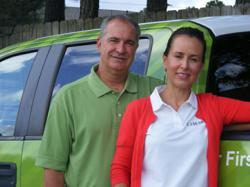 We are excited to offer solutions and choices that improve quality of life for people with disabilities or handicaps; as well as allow them to be independent and mobile
Cleveland, OH (PRWEB) August 08, 2012
Jeff and Lisa Franklin of Massillon have opened the newest 101 Mobility franchise, operating through Central and Northeastern Ohio, from Columbus to Cleveland. 101 Mobility Cleveland/Columbus will serve three territories in Cleveland and two territories in Columbus with comprehensive personal mobility solutions for both home and business.
The Franklins have lived in the area for the past seven years, and have two children both students at Ohio University. Jeff hails from a background in the building products industry specializing in both contracting and manufacturing, for the public and private sectors, for the past thirty years. Prior to this, Jeff pitched for the New York Mets from 1977 to 1982. Lisa served as an Accounts Payable Manager for a public corporation in New York prior to relocating to Ohio where she has spent the last seven years raising their children.
The Franklins decided to change career directions toward a more customer-focused industry. They felt that 101 Mobility offered them the opportunity to help people achieve and maintain their personal mobility and independence. The Franklins recognize the cultural shift for aging people to "age-in-place", or stay at home versus moving to assisted care facilities or in with family. "Being able to be cared for at your own home, rather than a hospital or facility, offers emotional and financial comfort for our customers", says Lisa Franklin.
Jeff and Lisa were attracted to 101 Mobility as a business opportunity due to its support and management, business philosophy, understanding of its target audience, and extensive product portfolio. "Sharing the same core values as the 101 Mobility Management Team, excellent customer service, a genuine care for its employees, as well as offering a service and product that improves the quality of life for our customers is why we chose to join the 101 Mobility Franchise network", says Jeff Franklin.
In addition, Jeff sees his experience in contracting as being a beneficial component of their new business, as home modifications and mobility-achieving renovations are in demand from those seeking to age-in-place. "We are excited to offer solutions and choices that improve quality of life for people with disabilities or handicaps; as well as allow them to be independent and mobile", says Jeff.
101 Mobility Cleveland/Columbus enjoys the unique advantage of having been a strong corporate territory for the past few years, prior to its conversion as a 101 Mobility franchise territory. The Franklins look forward to continuing to build on the momentum that 101 Mobility has established in the region as one of the fastest growing and most comprehensive mobility products and solutions organizations in the nation.
101 Mobility Cleveland/Columbus will focus on helping clients age-in-place by selling, installing, and servicing ramps, stair lifts, automobile lifts, patient lifts, vertical lifts, barrier-free baths and offering complete home modifications to incorporate total accessibility solutions. 101 Mobility is one of the nation's largest sellers and installers of personal mobility products from well-known brands such as Bruno, Harmar, ThyssenKrupp, Sterling, and many more.
101 Mobility is the franchising world's first full-service sales, service, and installation provider of a complete line of mobility and accessibility products and equipment. Short and long-term rentals are also available for home, office, and institution. By working with patients to identify which home health care devices best suit each individual's needs, 101 Mobility provides an alternative to group homes and rehabilitation centers by allowing patients to live self-sufficiently in their homes.
For more information, visit http://www.101mobility.com or call 440.975.1931.