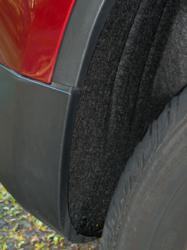 Avilla IN (PRWEB) August 10, 2012
GoClean Products reports that a customer with a VW from Washington State ran through yellow road/traffic paint and it was saturated into the fabric wheel well liners. Mike Liebing of GoClean Products suggested that the owner saturate the fabric with Get Off Clean Paint Remover and use a pressure washer to improve the results. B. Grzan stated, "Wanted to let you know that I successfully cleaned off the yellow paint splatter from all four of our VW wheel wells; Thanks for creating this product."
Many vehicle owners drive through traffic or road paint daily and attemt to remove it with a variety of ineffective products and processes. Currently in the market there is no other safe to use non flamable product on the market today that will remove road paint. GoClean products developed Get Off Clean Paint Remover to fill this void in the market.
GoClean Products is a speciality formulator and reseller of automotive cleaning chemicals and supplies auto auctions, detailers, car dealers and consumers across the US and Canada.
You can find out more about Get Off Clean Paint Remover at http://www.gocleanproducts.com