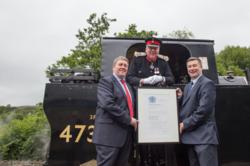 Managing Director David Price says: "I can't thank the Lord Lieutenant enough for joining us in celebrating our award. It was a great day out."
Burnley, Lancashire (PRWEB UK) 10 August 2012
It's full steam ahead for a Lancashire based online floristry firm - iflorist, after they received Queen's Award from the Lord Lieutenant of Lancashire aboard the famous East Lancashire Railway steam train.
To celebrate their Queen's Award for Enterprise for outstanding achievement in International Trade 2012, Burnley-based iflorist, held the special presentation ceremony at the station in Rawtenstall. Guests were also treated to a truly British cream tea on board the train.
The worshipful Mayor and Mayoress of Burnley, Councillor Charles William Bullas and Mrs Irene Bullas, the worshipful Mayor and Mayoress of Rossendale, Councillor Brian Essex and Mrs Jackie Sumerfield, the MP for Burnley Gordon Birtwistle and his wife and Chief Executive of Burnley council Steve Rumbelow also attended the event along with company representatives and suppliers of iflorist.
Founded in 2006 by David Price and Steven Harris, iflorist, which is part of the company Colonial Gifts Limited, is one of only 151 businesses in the UK to be awarded the prestigious Queen's Award. The company is the familiar name behind brands http://www.iflorist.co.uk and ihampers.co.uk, operating both floral and gifting websites in 20 countries and delivering flowers to homes and businesses in over 110 countries worldwide.
Managing Director David Price says: "I can't thank the Lord Lieutenant, the Mayor and Mayoress and Gordon and Steve enough for joining us in celebrating our award. It really was a great day out.
"The steam train seemed the most appropriate place to hold the presentation harping back to the links between the railway and the British colonies – hence our company name Colonial Gifts.
"We are thrilled to get the Royal seal of approval for all our efforts over the past 6 years.
"In the last two years alone we've grown our international sales by a staggering 200% by our extensive research into worldwide local markets, which has allowed us to understand the culture of each country. We now have websites in 10 languages and 6 six currencies."
The Lord Lieutenant of Lancashire Lord Shuttleworth says: "iflorist is a great Burnley and Lancashire success story. It is fantastic to hear that their international sales have grown 200% over the last two years.
"It was a real pleasure to present the company with The Queen's Award for Enterprise 2012 yesterday, on behalf of Her Majesty. It is very well-deserved and a credit to everyone involved."
In the UK alone, iflorist has a network of over 1,700 skilled local florists, each of whom is able to connect to upwards of 20,000 overseas florists. The company employs 15 people and is based at Ribble Court, Padiham.