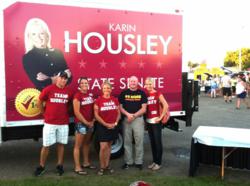 Bringing real life experience to the Senate.
Stillwater, MN (PRWEB) August 14, 2012
Primary election voting is underway in Senate District 39 and Republican candidate Karin Housley supporters are out in full force. After a short 10-week campaign season, Karin Housley looks to have strong momentum. Housley, a small business owner and real estate agent from St. Marys Point, is seeking the State Senate seat left vacant by Senator Ray Vandeveer, who announced his retirement on June 5th. The vacant seat spurred a Primary election between Housley and her Forest Lake opponent, Eric Langness.
Karin Housley has an extensive resume of volunteer work throughout the district, holds positions on many local boards, hosts a radio show, and is well known throughout the business community with her real estate experience. Housley and her husband of 27 years, former NHL player and Stillwater Area High School hockey coach, Phil Housley, have four children who have attended Stillwater Area schools.
A small business owner in Stillwater of Karin Housley Homes and part owner of Lumberyard Hockey & Sports Center, Housley has a business background. She also authored a stock market tutorial book, published by Random House in 2001. Housley is very involved in the community as she hosts The Karin Housley Show, is President of the non-profit Let's Go Fishing Stillwater Area Chapter based in Lake Elmo and Bayport, and is also on the state board of Let's Go Fishing With Seniors. She is also on local non-profit boards -Community Thread in Stillwater, and the Lower St. Croix Valley Foundation. Housley is a Stillwater Chamber Member and Ambassador and is on the Washington County Historic Courthouse Advisory Council. Housley was part of the Special Olympics Red Carpet Committee helping to bring the Special Olympics to the Stillwater Area. Karin and her husband chair Canvas Health's Annual Fundraiser held in Lake Elmo and the Housleys are also members of Shepherd of the Valley Lutheran Church.
In addition to a strong presence throughout the newly formed district, Housley has been building a war chest to run against the DFL candidate, Julie Bunn, in the November. Housley's cash in the bank at the July 30th filing was over $18,000 and her primary opponent, Eric Langness' balance was $241.00. The newly formed district includes Bayport, Baytown Township, Forest Lake, Franconia Township, Grant, Lake Elmo, Lake St. Croix Beach, Lakeland, Lakeland Shores, Marine on St. Croix, May Township, Oak Park Heights, Pine Springs, Scandia, Shafer, St. Mary's Point, Stillwater, Stillwater Township and West Lakeland Township.
Housley hopes to bring her business experience, common sense, fiscal responsibility, and free market solutions to the Capitol in November.
Housley supporters are throughout the district today wearing Team Housley t-shirts and encouraging people to get to the polls. August 14th is the earliest the Primary vote has taken place in Minnesota.