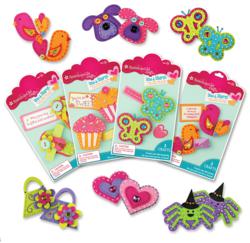 Clifton, N.J. (PRWEB) August 09, 2012
Get ready for an all-new shareable and collectible concept in crafting with American Girl Crafts Sew & Shares™ kits!
Each Sew & Shares craft kit contains enough beginner sewing supplies to make two coordinating felt designs, so girls can make one craft for a friend, teacher or loved one and keep the other for themselves. Also included in each kit are tiny notes girls can tuck into the pockets of the finished crafts to send a heartfelt message! Plus everything girls need to turn their crafts into fashion pins, super stickers, pencil toppers, or whatever their imaginations dream up.
The pre-cut felt pieces come in bright colors and make cute shapes—like hearts, animals and cupcakes—that girls will love. The pre-punched holes and full-color illustrated instructions make it easy for girls to learn to stitch, and the projects can be completed in less than an hour. American Girl Crafts are designed for girls ages 8 and up.
Twelve American Girl Crafts Sew & Shares products launch in August on amazon.com and americangirlcrafts.com with an MSRP of $5.99. At americangirlcrafts.com/sewandshares girls can watch a fun introductory video and download a checklist of all the cute designs they can share and collect. Please contact Misty Huber at mhuber (at) eksuccess (dot) com for more information, high-res images and samples. American Girl Crafts is a licensed brand of EKSuccess Brands, a creative consumer products company.
About American Girl
American Girl is a wholly owned subsidiary of Mattel, (NASDAQ:MAT, http://www.mattel.com), the world's leading toy company. Since American Girl's inception in 1986, the company has devoted its entire business to celebrating the potential of girls ages 3 to 12. American Girl encourages girls to dream, to grow, to aspire, to create, and to imagine through a wide range of engaging and insightful books, age-appropriate and educational products, and unforgettable experiences. In meeting its mission with a vigilant eye toward quality and service, American Girl has earned the loyal following of millions of girls and the praise and trust of parents and educators. To learn more about American Girl or to request a free catalogue, call 1-800-845-0005 or visit http://www.americangirl.com.
About EKSuccess Brands
Established in 1978, EKSuccess Brands is one of the country's leading creative consumer products companies. Its diversified portfolio includes more than 10,000 inspirational and creative products covering paper crafting, needle crafting, stamping, jewelry making, kids' crafts, painting and more. Popular brands include K&Company™, Inkadinkado®, Dimensions®, Jolee's Boutique®, Sticko®, Perler®, Martha Stewart Crafts™ and American Girl Crafts®. EKSuccess Brands is a division of Wilton Brands Inc. For more details visit http://www.eksuccessbrands.com. Dream. Make. Celebrate®.
###