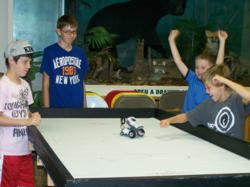 Educating Young Minds - Classes begin 8/20/12. Enroll Now!
(PRWEB) August 08, 2012
The Science & Discovery Center of Northwest Florida, an innovative children's science museum, is pleased to announce the opening of its new preschool academy. The Academy of Science & Discovery, a science and literacy-based preschool for ages three to five is now open for pre-enrollment, with classes beginning on August 20, 2012. The Science & Discovery Center of Northwest Florida educates and inspires children and adults through hands-on, interactive exhibits and programs that promote discoveries in science, technology, and history.
The Academy of Science and Discovery, the first science school for preschoolers in the Northwest Florida region, implements a S.T.E.M education in an early childhood classroom setting. Strategically focused on exploring science, technology, engineering and math (S.T.E.M.), the new academy will be using the ScienceStart! curriculum, an inquiry-based early childhood curriculum that emphasizes science as the core of an integrated approach.
By learning about the world around them, preschoolers develop higher order cognitive skills such as planning, predicting, and drawing inferences. ScienceStart!'s engaging content provides a variety of language and literacy-related activities such as consulting books for information, making charts and graphs, reading aloud, dictating reports, and making observations. The daily lessons are organized into 5 modules: measurement and mapping, color and light, properties of matter, neighborhood habitats, and movement and machines.
The new preschool academy at the Science & Discover Center offers full and half day programs. The tuition for the full day program is $600.00 per month and the half day program is $400.00 per month, with a 10 percent discount for members of the military, Science & Discovery Center members, and siblings of enrolled students. For further information about the new Academy of Science & Discovery, or to enroll a student, email Pam Vosbrink or Sue Blei at Academy@ScienceAndDiscoveryCenter.org or call (850) 769-6128.
"Educating Young Minds" First Pre-K Science Academy in NW FL Region. Class starts August 20, 2012. Hands on interactive projects for science, technology, engineering & math. Join them for a fun, science and literacy based Pre-school. For children ages 3, 4 & 5! Pre-School opens - August 20th. High Level Curriculum with the flexibility you need! For more information visit their website at http://www.scienceanddiscoverycenter.org.