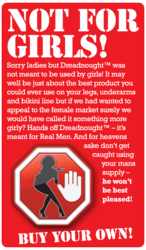 "Cut through stubble with… Dreadnought Luxury Shaving Cream. A smooth operator that moisturizes, but won't clog pores or razors…This paraben-free,eco-friendly packaged product also reduces heavy beard growth," said Karina Timmel of Jezebel Magazine.
(PRWEB) August 29, 2012
Dreadnought offers luxury products including shave cream, pre-shave oil, post-shave balm, the 'Avenger' shaving brush, the 'Spartan' double edge razor and roll-on anti-perspirant deodorant. Manufactured in Great Britain—made exclusively for American Men—Dreadnought combines both age perfected craftsmanship and modern day technology to produce cutting-edge products sure to address any man's shaving needs. For more information regarding Dreadnought, please visit http://www.dreadnought-shaving.com/
"The range of Dreadnought shaving products was designed and engineered to tackle the toughest of beards whilst reducing razor rash, burn, cuts, nicks and ingrowing hairs and contains Decelerine which reduces the appearance of beard growth whilst also moisturizing and protecting the skin to allow for the closest of shaves," according to http://www.dreadnought-shaving.com/about-dreadnought
The Gents Place is currently offering a limited time special where clients receive a complimentary brush with the purchase of both the shave cream and post shave balm. You may purchase online at http://thegentsstore.com/search?q=dreadnought.
Founded in 2008 by Ben Davis, a frustrated guy who hated getting his haircut, The Gents Place offers men's grooming and lifestyle products and services in a masculine, yet relaxed country club type environment. They offer men's hair services, hand and foot repairs, straight razor shaves, massages, shoe shines and more. Frequently referred to as America's Premier Men's Grooming and Lifestyle Club with locations in Texas (Dallas, Frisco) and Kansas (Leawood), The Gents Place is known for its commitment to client service and top shelf amenities.
To learn more about The Gents Place or find the club nearest you, please visit http://www.thegentsplace.com