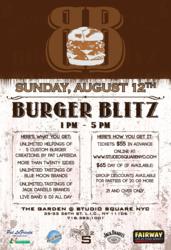 "While there are dozens of burger events in NY every year, none comes close to the size, menu quality, value and overall guest experience we're creating with Burger Blitz." - Peter Mason, Chief Marketing Officer, S Hospitality Group
Long Island City, NY (PRWEB) August 08, 2012
Studio Square NYC has joined forces again with Pat LaFrieda to produce another mouthwatering culinary event in the massive, 30,000 sq. ft. Beer Garden @ Studio Square on Sunday, August 12th, 2012 between 1PM - 5PM. Burger Blitz 2012, is the highly anticipated follow up to The Summer Spit BBQ hosted by celebrity chef David Burke, and is expected to draw burger fans for all over the northeast.
This event, co-sponsored by Fairway Markets, will feature an eclectic menu of barbecue fare including several custom burgers created only for this event. Guests will enjoy all-you-can-eat burgers and sides, unlimited tastings of six different craft brews provided by Blue Moon Brewery and unlimited samplings of Jack Daniel's brand bourbons. There will also be live music, an interactive brewing discussion, a muralist, commemorative Blue Moon glass for each guest and activities for the entire family to enjoy. All food, beverages and activities are included in the ticket price.
Adult Admission is $55 in advance ($60 day of event) and Children under 12 are $30 in advance ($35 day of event).
Tickets can be purchased online here.
ABOUT STUDIO SQUARE NYC
Part of S Hospitality Group, Studio Square NYC is an 100,000 sq. ft. event, entertainment and enjoyment destination unparalleled in the metropolitan New York City area. In addition to eight different "loft" style event spaces, At nearly 30,000 sq.ft., The Beer Garden @ Studio Square NYC boasts one of the largest outdoor bar spaces in NY. Modelled after a traditional Bavarian biergarten with a New York twist, The Beer Garden @ Studio Square has been host to more than 2 million visitors since opening in May of 2009.