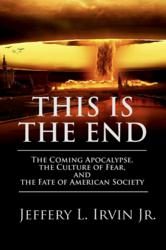 Apocalypticism represents the desire to establish a world of justice, while the culture of fear represents the belief that justice is a near impossibility.
Holland, Ohio (PRWEB) August 10, 2012
THIS IS THE END examines the negative consequences of Christian prophecy on American society. It explores the natural connections between Christian apocalyptic thought and the modern-day "culture of fear," the latter of which convinces many that there is little hope for human survival. Whether it comes through total social collapse, the aligning of the planets, climate change, or nuclear annihilation, according to the modern American doomsayer destruction is inevitable.
The most dangerous aspect of this end-of-the-world frenzy is that millions of evangelical Christians are not only looking forward to it but actively working toward its consummation through U.S. foreign policy. Their hope is that they can speed along the second coming of Jesus Christ and the final battle between good and evil—what they call "Armageddon."
THIS IS THE END maintains that the widespread end-of-the-world hysteria is rooted in a lack of general moral conviction, that too many now believe mankind is unable to meet the challenges of the future. Christian apocalyptic belief and the culture of fear have led to social paralysis and political infantilization. That is why end-of-the-world scenarios are so rampant among those who feel there is a lack of moral balance in society. In their view modern society provides too little for what it demands, or people demand too much for what little they give. The tragic irony in all this is that large minorities of Americans have abandoned political action for "victimhood," while social and political action still remains mankind's best hope to build a better world.
Dr. Irvin suggests that if we choose to initiate a public dialogue about morality we may be able to restore some balance to society. However, that moral dialogue cannot begin with traditional religion, as fundamentalist Christians and others believe. It must begin with reason, common sense, and a proper appreciation for what science can and cannot achieve. In other words, our fate lies in our own hands, not in the stars, or prophecy, or even in the genius of a great leader. We must choose for ourselves.
THIS IS THE END is now exclusively available on the Kindle at Amazon. It is also available as a traditional book from Amazon and other retailers.
BIOGRAPHICAL INFORMATION
Jeffery L. Irvin Jr. has a Ph.D. in early modern European history and a master's degree in American history from The University of Toledo. His area of interest is the historical and cultural effects of religion, philosophy, and science on human societies. He has taught in and outside the United States for a variety of colleges and universities. Most recently he served as a visiting assistant professor with The University of Maryland University College Asia on Okinawa, Japan.
CONTACT INFORMATION
Editors: Review copies of the book are available by request from the author.
Jeffery L. Irvin Jr.
56 E. Hedgewood Lane
Holland, Ohio 43528
Phone: 419-902-6228
Email: jirvin6878(at)gmail(dot)com
WWW: http://www.jefferyirvin.com
###