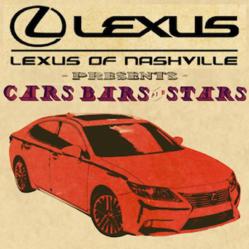 Great food and excellent music
Nashville, TN (PRWEB) August 09, 2012
On Thursday, August 2, 2012 and Friday August 3, 2012, Lexus of Nashville held their Cars, Stars and Bars events at each of their Nashville, Tennessee locations to promote the introduction of the new 2013 Lexus ES series automobile. Providing gourmet stuffed hamburgers for the event was local Nashville food truck, Hoss Burgers. Live music was provided by Small Time Rock Stars, best known for their hard-pounding eighties and nineties music.
Hoss Burgers not only delivers what is considered to be one of the best hamburgers in Nashville by many of their followers, they also have bragging rights due to their stellar bill of health which is posted prominently on the side of their truck. Hoss Burgers has become one of Nashville's most in-demand mobile food delivery services due to their unique and favorable food offerings, gourmet hamburgers that ooze cheddar cheese upon first bite. For those wishing to eat a Hoss Burgers gourmet stuffed hamburger, they need only to text the word BURGER to 88000 to receive daily location updates via text. According to one attendee at the Lexus event, "Hoss Burgers has a very dedicated, if not obsessive following. There's always a line at the Hoss Burgers truck." Hoss Burgers currently services much of the Nashville metropolitan area on a weekly basis, and is also available for both public and private events. Visit Hoss Burgers' Facebook page at http://www.Facebook.com/hossburgers for more information.
Small Time Rock Stars delivered the perfect blend of eighties and nineties music for the event. Small Time Rock Stars have become a staple in the Nashville music scene due to their regular appearances at the Nashville Predator hockey games, and quite often press conferences and special events. Small Time Rock Stars have also provided the musical entertainment for hundreds of private and corporate events over the past ten years with their mix of rock and dance rock music. It's no wonder they are one of Nashville's most desirable cover bands. For more details and booking information, visit Small Time Rock Stars website at SmallTimeRockStars.com.