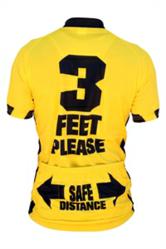 The "3 Feet Please" campaign began more than four years ago after Mizereck was nearly hit while riding his bicycle.
Grover Beach, California (PRWEB) August 10, 2012
Voler has partnered with Joe Mizereck, founder of the Tallahassee, Florida based "3 Feet Please." This partnership will help "3 Feet Please" expand its advocacy efforts to make cycling safer around the world.
"Voler is going to make it easier for all my fellow cycling advocates around the world and I to focus our energies on advocacy. Voler will assume responsibility for all the sales and distribution of the jerseys," said Mizereck. "To me, that is a godsend, and with this partnership in place I am very excited about the future of the campaign and making it safer to ride a bicycle."
The "3 Feet Please" campaign began more than four years ago after Mizereck was nearly hit while riding his bicycle. That was when he decided to place the words "3 Feet Please" on the back of a cycling jersey to help remind motorists that they need to give cyclists at least 3 feet clearance when passing from the rear. At the time, Mizereck's home state of Florida was one of just nine states that had a 3 foot clearance law on the books, but most drivers didn't know it existed.
"The jersey has been a great fit for the campaign…and so has Voler. I have been using Voler to produce my jerseys from the beginning. They have never let me down and the cyclists who buy and wear our jerseys share the same appreciation and admiration for the quality of the jerseys," said Mizereck. "I have nearly 5,000 cyclists wearing the '3 Feet Please' or '1 Metre Please' jerseys. From Singapore to Israel to Brazil to Spain you will find cyclists wearing the jersey and spreading the '3 Feet Please' message."
In 2009, 630 bicyclists were killed and an additional 51,000 were injured in motor vehicle crashes in the United States. 2010 marked the third year in a row the number of fatalities decreased, with a total of 618 deaths, the fewest number of bicyclists killed in traffic accidents since the statistics were first published in 1975. Although collisions between vehicles and cyclists (when being overtaken) represent less than 2% of the total crashes, the fear of being hit from behind is the biggest concern expressed by both professional and recreational cyclists.
Today, 19 states have 3 foot clearance laws. In addition, one state, Pennsylvania, was able to get a 4 foot clearance law adopted. In states like Texas that do not have the law, cities and counties have passed ordinances to give cyclists this protected space. Mizereck's goal is to have such laws in all 50 states and beyond. Nova Scotia recently adopted a 1 meter passing requirement and other Canadian provinces aren't far behind. Mizereck believes the next U.S state to join the network of 3 foot states will be California, and there is legislation in the works in several others. This is all good news for cyclists who are growing in numbers.
According to Mizereck, "Most motorists and cyclists are respectful of each other and get along very well on our roads. And they are OUR roads. However, we have a lot of work to do to address the problems caused by the irresponsible and disrespectful scofflaws on both sides—cyclists and motorists alike."
ABOUT VOLER
Voler is the premier USA made cycling apparel company. Founded in 1986, Voler is committed to support all cycling enthusiasts with premium quality, elite performance and personal service. With very few exceptions, Voler garments are completely handcrafted with great pride in Grover Beach, California.