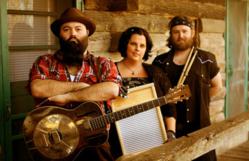 Cincinnati, OH (PRWEB) August 09, 2012
Roaring out of the southern Indiana foothills comes Reverend Peyton's Big Damn Band playing a brand of Americana and Blues that stands alone – Delta blues and hillbilly fervor combine with musical acuity sharp as razor wire - best know, this trio is a force to be reckoned with. Their new album Between The Ditches arrived today and hit the iTunes Blues chart immediately, debuting at #1 on its first day of sales! Don't miss Reverend Peyton's Big Damn Band when they come back to town to host their annual Thanksgiving Bash in The Ballroom at the Taft Theatre November 24th. Tickets are on sale now!
General admission tickets, $15.00 ADV & $18.00 DOS (plus applicable fees), are on sale now at http://www.ticketmaster.com, http://www.tafttheatre.org, the Taft Theatre Box Office and all Ticketmaster outlets including select Kroger stores. Charge by phone at 1.800.745.3000.
Their fifth album celebrates the growl of a good truck engine, the fiercest passion for their country home and the importance of family. The an uncanny ability to breathe new life into old forms of music give the Big Damn Band a pedigree many Americana acts would kill for and an ironclad work ethic keeps them on the road playing for the people with hurricane force. Locked in with an audience, the band create their own community and welcome the crowd into it, transporting them away from their troubles to joyous release, the way great musicians have done for centuries. The Rev. J. Peyton, his wife Breezy and distant cousin Aaron "Cuz" Persinger are a living breathing embodiment of the traditions and hard work ethic native to their Brown County, Indiana home.
With a reputation for their incendiary live shows well established, The Big Damn Band set out to make the album that would finally capture the same heat. Recorded at White Arc Studio in Bloomington, Indiana, the album was produced by The Rev. Peyton and Paul Mahern (John Mellencamp, Iggy Pop) and mastered by Brian Lucey (Black Keys, Dr. John, Shins). For previous albums, the band had recorded live, straight through in the same mode as a live show. Between the Ditches came together more slowly, with care. "We approached it saying we were going to make a record this time, not just a recording," explained the Rev. He used a different guitar set up on almost every track, employing two '30s National guitars, a cigar box guitar, a custom shop Gibson flattop 1929 L2 and an Airline map electric guitar. The primary amps are custom Weber amps made by Weber speakers – both are one of a kind.
Between The Ditches features a new level of craftsmanship in both recording technique and songwriting. The Rev. feels that it's their best album to date. "I'm very proud of this album, the songwriting and the playing." The guitar playing alone should put the Rev. in the same class with his much revered idols. The songwriting boasts an added maturity and runs the gamut in subject matter from the barn burning, tongue in cheek, "Shut the Screen", (where "It's too dang hot and the bugs are too dang mean") to the evils of strip mining, an issue close to the hearts of this Indiana born and bred band in "Don't Grind It Down". There seems to be a theme expressed throughout the album and stated clearly in their first single, "Devils Look Like Angels": "Devil don't live down in hell, the devil's right here doing very well".
This band is fun sure, a lot of fun, but they are for real. From virtuoso musicianship to great songwriting, Between The Ditches has got it all. All from a little Brown County, Indiana band that's got the nerve (and the right) to call themselves Reverend Peyton's Big Damn Band.