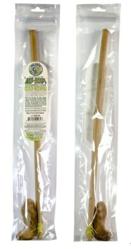 Shelby Township, MI (PRWEB) August 29, 2012
Free Range Eco Naturals Dog Treats, specializing in dog chews and treats with only 1 or 2 ingredients, has expanded it's offering to cat lovers.
Free Range Eco Naturals Dog Treats Inc., makes sure to keep it's products in their purest and most simple form. Their team has been involved in the pet industry since before pig ears came over from Europe as dog chews, and has been focusing on the body parts category (Angus beef cattle, pork, lamb, and wild hare/rabbit that is!) ever since. Today there are a plethera of different "body part" chews available on the average pet store shelf from achilles tendons and trachea to pizzles and weasand. The chews already tend to be high in nutritional value, so Free Range Eco Naturals doesn't feel the need to add anything to what nature has provided. Their theory is that, "Nature Doesn't Need Any Help!" It just came naturally that using the same "Back to Basics" concept could help in the development of a cat toy.
With the introduction of "Everything but the HipHop!", a new line of dog treats and chews, from wild, non-domesticated hare/rabbit from Argentina, the fluffy tails and feet seemed like a natural fit for a Hare Foot Chaser as a cat toy. Remember elementary school when it was cool to carry a "lucky rabbit's foot" on a key ring, even though you didn't have any keys to put on it? Well Free Range Eco Naturals took a piece of real bamboo, added a natural organic cotton string and tied on the rabbit's foot for hours of fun and frolic for lucky cats. They can also chase a fluffy wild rabbit/hare tail on the end of the string. Both can be seen on the corporate website at http://www.FreeRangeEcoNaturals.com
Doesn't your pet deserve natural? Of course, so call or click today!
About Free Range Eco Naturals:
Free Range Eco Naturals Dog Treats Inc. provides natural dog chews and treats with only one or two ingredients. The company sources it's products from Argentina, where livestock are humanely raised, grass-fed and pasture finished with no added hormones, steroids, preservatives, antibiotics, or animal by-products.