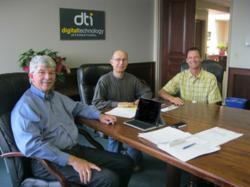 "We now have the competitive advantage we were looking for. Adding DTI Advertising completes the mix. It brings our advertising department into the 21st century."--Ralph Bender, CFO, The Advocate
Springville, Utah (PRWEB) August 08, 2012
Digital Technology International (DTI™) announced a long-term agreement with The Advocate in Baton Rouge, Louisiana, to add DTI Advertising as their newest DTI Cloud-based application. The new digital advertising solution will join DTI ContentPublisher and DTI Circulation at The Advocate as a completely integrated unit powering all areas of their news publishing operation.
The Advocate, a daily newspaper founded in 1909 and the theadvocate.com website will have its digital and print advertising operations managed through DTI Cloud, DTI's award-winning cloud publishing platform. The Advocate's advertising team will use their new digital system to sell package buys for all types of ads and marketing campaigns, including Web, print, email, direct mail, inserts, and social media.
With DTI Advertising, The Advocate has selected the full suite of DTI solutions with DTI Cloud as a digital cost-performance platform for digital publishing operations, and to gain a strategic stronghold in their market. The database integration across DTI solutions enables The Advocate to explore new possibilities of audience engagement and revenue expansion.
"We now have the competitive advantage we were looking for. Adding DTI Advertising completes the mix. It brings our advertising department into the 21st century," said Ralph Bender, CFO, The Advocate. "With all DTI solutions under our roof, we can look further into new revenue streams we didn't think possible before. Having DTI Cloud as the engine that now fuels all three major areas of our operation—editorial, circulation, and advertising, gives us a best-practices business model all-around."
DTI Advertising works seamlessly with all DTI solutions installed at The Advocate to provide the tools necessary for efficient collaboration, target marketing campaigns, cross-media ad sales, production, billing, and more.
Along with an integrated enterprise approach, The Advocate wanted a customer-centric digital advertising solution with self-service functionality that allows advertisers to create and book their own ads from any Web browser.
"DTI's vision of the integrated core systems' platform is unlike that of any other vendor that we investigated," said Richard Shurley, CIO, The Advocate. "We believe that DTI shares our passion and vision for the industry's future and that vision will allow The Advocate to successfully tread the uncertain waters of our industry by maintaining flexibility of operations and superior cost control."
"The Advocate is a longtime DTI customer with a reputation for really taking full advantage of our technology throughout their operations, " said Dan Paulus, president, DTI. "Now, with the adoption of our latest digital advertising platform, they will innovate sales and marketing operations to dominate the Baton Rouge media market. The Advocate's advertising team using DTI Advertising deployed via DTI Cloud is a powerhouse combination."
Bender continues, "DTI has made us—a small media company—feel like a very valued customer. We are looking forward to continuing the wonderful relationships we have built and working together with our partner, DTI, to taking advantage of new technologies to further develop our business opportunities."
DTI Cloud offers The Advocate an opportunity to reduce costs and the ability to rapidly respond to the changing demands of digital news publishing and new mobile devices such as smartphones and tablets. With DTI Cloud, The Advocate will always be current with the latest DTI software and features, without the cost burden of a traditional on-premises installation.
Digital Technology delivers Digital All Ways.
About Digital Technology International: Digital Technology International (DTI™) delivers digital audience engagement, digital revenue expansion and digital cost performance for the global news media industry. The company's innovative technology and professional services help media organizations engage audiences by delivering targeted news and advertising with Web, print, mobile, and social media. On-site or via DTI Cloud Digital Technology software helps more than 2,000 publishers around the world compete and win across all channels. The company is headquartered near Salt Lake City, with offices in Australia, Brazil, Canada, Finland, France, Germany, Panama, the United Kingdom and the United States. Digital Technology may be found at: http://www.dtint.com