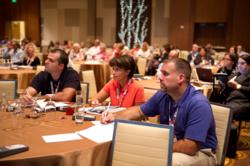 Attending these conferences is an incredible experience. The grouping of the education, networking, and exposure to our industry-based products and tools is invaluable.
Fairfax, VA (PRWEB) August 22, 2012
The Radiology Business Management Association (RBMA) will be hosting three separate conferences beginning Oct. 5, 2012 and continuing through Oct. 10, 2012 at the Sheraton Wild Horse Pass Resort & Spa in Chandler, Ariz. Each conference will focus on a different aspect of radiology business geared to a specific audience.
The ACR-RBMA Forum: New Strategies for Business and Clinical Leaders in Radiology will take place Oct. 5-7, 2012. For the fourth year, RBMA has partnered with the American College of Radiology (ACR) to present a two-and-a-half-day program designed for radiologists and administrators. This leadership program will consist of current topics confronting radiologists and administrators delivered by a dynamic faculty in an innovative and free-flowing atmosphere. The focus will be on the challenges and opportunities presented in these uncertain economic times and to develop strategies and solutions for radiology practices.
The RBMA Interventional Radiology Coding Course will take place Oct. 6-7, 2012. This comprehensive hands-on course will focus on CPT/HCPCS code assignment and assist the attendee in understanding core rules, regulations and definitions needed to confidently code Interventional Radiology (IR) services. Taught by coding experts Jeff Majchrzak, BA, R.T.(R)(ARRT), CNMT, RCC, CIRCC and Ezequiel "Zeke" Silva III, MD, RCC, a fair amount of time will consist exclusively of case examples of coding difficult IR cases contributed by the attendees. The Interventional Radiology Coding Course is sponsored by OptumInsight.
The Fall Educational Conference will be held Oct. 7-10, 2012. The conference will begin Sunday night, Oct . 7, with the grand opening of the exhibit hall. For the next two-and-a half- days attendees will deep dive into various topics such as billing, operations, leadership, compliance, marketing and more. The full exhibit hall will house over 50 companies under one roof displaying industry products and services.
The Sheraton Wild Horse Pass Resort & Spa is a four-diamond resort located a short distance from Phoenix Sky Harbor International Airport. Designed to be an authentic representation of the Gila River Indian Community's heritage and culture, this unique property provides the perfect background for focused learning.
The mission of the American College of Radiology (ACR) is to serve patients and society by maximizing the value of radiology, radiation oncology, interventional radiology, nuclear medicine and medical physics by advancing the science of radiology, improving the quality of patient care, positively influencing the socio-economics of the practice of radiology, providing continuing education for radiology and allied health professions and conductingresearch for the future of radiology.
Interventional Radiology Coding Course sponsor OptumInsight is formally A-Life Medical, the pioneer and leading provider of computer-assisted coding (CAC) products for the healthcare industry and uses proprietary, patented natural language processing (NLP) technology to decipher electronic transcribed patient encounters. OptumInsight's CAC solutions address medical coding needs to improve accuracy and ensure compliance. Optum is an information and technology enabled health services business platform serving the broad health marketplace, including care providers, plan sponsors, life sciences companies and consumers. Its business units – OptumInsight, OptumHealth and OptumRx – employ more than 30,000 people worldwide who are committed to enabling Sustainable Health Communities.
The Radiology Business Management Association (RBMA) is a not-for-profit professional organization serving individuals whose primary business involves radiology. Established in 1968, RBMA serves as a trusted community that connects members nationwide, provides valuable information and education, and develops and offers practice-related resources for nearly 2,400 members.