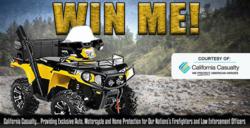 San Mateo, CA (PRWEB) August 09, 2012
Volunteer paramedic and EMS instructor Ellie Piatt, of Huber Heights, Ohio had never driven an all-terrain vehicle, but that didn't stop her from entering a contest to win one.
At a public safety conference in Columbus, she noticed promotional material for the California Casualty ATV giveaway and picked up some information to take home. Then Piatt forgot about it until several weeks later, when a post on Facebook prompted her memory and encouraged her to enter for a chance at winning the vehicle.
"What the heck," Piatt said. "I didn't expect to win, but I liked thinking about what I could do with it." A true volunteer at heart, she wasn't thinking about her own recreation; she was thinking about how an ATV might be of use at the various community events her department attends.
The ATV was again pushed from Piatt's mind after she'd submitted a contest entry. When her chief went to great lengths to ensure Piatt would attend an upcoming staff meeting, though, she knew something was up. "I saw through the ruse," she said, laughing.
California Casualty representatives Beth Nagy and Ashley Sprankle were at the meeting in late July – presumably to discuss the company's insurance program for public safety officials – and delivered the news that Piatt had won the California Casualty "Work Hard, Play Hard" ATV Giveaway.
Piatt, who volunteers for the Box 21 ESS as well as the Bethel Township Fire Department, said, "It'll come in handy. We provide support at DUI checkpoints, dive rescues and recoveries, accident investigations and more. We also set up first aid stations at local festivals, charity runs and other community events. One of my colleagues immediately offered me money for it, but I think we'll wait and see if and how we can really use it."
The Polaris ATV is valued at approximately $10,000 and was delivered that day. Piatt said she doesn't have room for it at home, so for now it's parked at the firehouse. "Maybe we'll get a snow blade, use it as a plow next winter," she added. "That'd be fun."