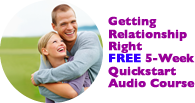 FREE 5-Week Quickstart Getting Relationship Right Audio Course for attracting a dream partnership.
Durango, CO (PRWEB) August 10, 2012
Getting Relationship Right Program Comes Out With Free Quickstart Audio Course to attract the ideal partner with more ease. Ed Ferrigan, the creator of Getting Relationship Right Coaching Program and related on-line information products announces a Free 5-week Getting Relationship Right Quickstart Audio Course. The course includes 5 key essentials to attracting the dream partner. Ed Ferrigan has 17 years experience coaching individuals and couples to successful relationships. The program is directed at individuals and couples who are feeling stuck, depressed, lonely, sad, or despair and are ready to do what it takes to attract a great relationship or to bring more passion into a current relationship. Expect to get tips on essential completions one must finish to create space for your soul mate to show up; ways to improve self esteem and self worth; how to get clear what is needed to attract the ideal partner; and how to build trust. This program is FREE at http://www.GettingRelationshipRight.com website.
The Getting Relationship Right Coaching program is designed for today's busy lifestyle and gives precise tools to get relationships back in order so life is really good. Getting Relationship Right is a subsidiary of Great Life Blueprints featuring on-line information products for individuals who want better lives. Products include on-line information skill building tools for relationship, corporate group coaching programs, individual group coaching programs, and problem solving software for the iPad and iPhone. It is especially for the frustrated, sad, depressed or hopeless feeling single person who is ready to attract the partner of their dreams. Information can be found on the Getting Relationship Right website located at http://www.GettingRelationshipRight.com website. Bloggers, journalist, reporters, publicist, editors, writers, and information seekers can stay informed of future stories and announcements by registering at http://www.gettingrelationshipright.com/pr-page.html