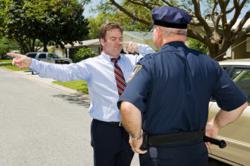 Everyone should know what to do if stopped for DWI.
Raleigh, NC (PRWEB) August 14, 2012
"People need to know their rights before they're stopped by the cops, not after it's already too late," says Seth Blum, DWI Lawyer and founding partner of Kurtz & Blum in Raleigh, NC. The DWI lawyers of Kurtz & Blum have been helping people charged with DWI since 1998. Through almost 40 years combined as trial lawyers, they've heard hundreds of times how their clients destroyed their own cases because they did not know what to say to the police. Having counseled countless people facing DWI charges, these counselors learned all too well how unprepared people are for that shock when blue lights start flashing in their rear view mirror. It became clear that people needed to understand their rights prior to being pulled over. As a result, Blum and his partner, Howard Kurtz, decided that the best way to educate people about their legal rights was to produce a brief video on the subject, entitled, "What to do if you are stopped for DWI" (click on the link to watch the video). In fact, they dedicated an entire DWI related video library for free on their firm's website, to give people accurate information from the perspective of seasoned DWI lawyers.
"Have you been pulled over for DWI before?" asks Kurtz. "Do you know that you weren't required to take the standardized field sobriety tests? Do you know whether it would make it more or less likely for a police officer to charge you with DWI if you refused those tests? Do you know whether it would help or hurt your case in trial? Don't you think it would be a good idea if you knew?"
In their educational video, the DWI lawyers of Kurtz & Blum address these issues and more, covering field sobriety tests, breath tests and whether it may help to ask for a witness. The video library on the site also contains a tremendous amount of additional valuable information for people who may already be accused of DWI. "If people actually understood their rights before they found themselves staring into the high beam of some police officer's flashlight, there might be a whole lot fewer people who needed to actually hire a DWI lawyer in the first place," Kurtz said.
Disclaimer: This information is not meant to create an attorney-client relationship. It is not legal advice. For legal counsel, you should consult with an attorney.
About Kurtz & Blum PLLC:
Kurtz & Blum PLLC is a law firm in downtown Raleigh, North Carolina, less than one block from the courthouse. It was founded in 1998 by partners Howard Kurtz and Seth Blum. Since its inception, the firm has maintained a strong focus on defending people accused of DWI. If you have questions about DWI please visit our website or give us a call at (919) 832-7700.