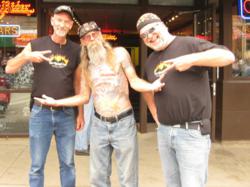 Grand Rapids, MI (PRWEB) August 08, 2012
The Foremost® social media team is in Sturgis, South Dakota for the 72nd annual Sturgis Motorcycle Rally August 3-12 and is showing a behind-the-scenes look at the exciting event. Foremost is following two experienced riders, Bill and Jack along the streets of the famous bike rally and bringing the action online.
Bill and Jack's Adventures is a social media campaign focusing on a up close-and-personal view of what happens at the Sturgis Motorcycle rally through the eyes of actual motorcycle riders. The Foremost Facebook pages, Twitter feeds and Foremost Blog will up inundated with rally pictures, videos, posts and stories from August 3-12.
"Being involved with these events is important to Foremost and allows us to sponsor the products we insure," says Jeff Bair, head of independent agent marketing "As an independent agent carrier these social media initiatives offer a great outlet for our safety and product knowledge and can be shared with our consumers as well as our independent agents."
Bair says that events like the Sturgis rally is a great opportunity to highlight the products that Foremost specializes in and encourage consumers to contact their local independent agent. Throughout the year, Foremost also supports bike builders, various race teams, off-road vehicle dealer shows and numerous safety and training events.
Visit Blog.Foremost.com to catch the latest from the Bill and Jack Adventure's in Sturgis and check out all the exciting action on the Foremost Facebook page, http://www.Facebook.com/ForemostInsurance, The Foremost Insurance Guy Facebook page, http://www.Facebook.com/ForemostInsuranceGuy Foremost Racing Twitter feed, http://twitter.com/foremostracing, and Foremost blog, http://blog.foremost.com
Foremost wants you to be safe in whatever adventure you choose. To learn more about Foremost Powersports™ products or to share feedback, visit http://www.Foremost.com. A part of the Farmers Insurance Group of Companies®, Foremost Insurance Group ("Foremost") has been a leader in personal lines insurance since 1952. Foremost is headquartered in Caledonia, Michigan. Farmers is a trade name and may refer to Farmers Group, Inc. or the Farmers Exchanges, as the case may be. Farmers Group, Inc., a management and holding company, along with its subsidiaries, is wholly owned by the Zurich Financial Services Group. The Farmers Exchanges are three reciprocal insurers (Farmers Insurance Exchange, Fire Insurance Exchange and Truck Insurance Exchange), including their subsidiaries and affiliates, owned by their policyholders, and managed by Farmers Group, Inc. and its subsidiaries. For more information about Farmers, visit http://www.Farmers.com, or http://www.Facebook.com/FarmersInsurance.