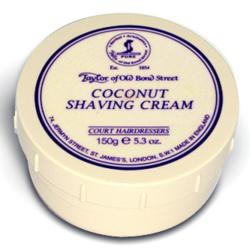 Toronto, Canada (PRWEB) August 09, 2012
Fendrihan knows its discerning clientele is smart, savvy and chooses wisely among the alternatives available in fine men's shaving and grooming products. Partnering with the men who want both an abundant lifestyle and a sensible price tag, Fendrihan immediately seized upon the quality of the most recent Taylor of Old Bond Street Shaving Bowls offering in tantalizing coconut.
Refusing to super-charge for impeccable quality, Taylor of Old Bond Street offers this naturally fragrant coconut shaving cream that exceed expectations for high-quality lathering and shaving performance, without emptying the pocketbook. Coconut is the latest fabulous fragrance; marvel at the array of the other manly scented options — the finest bouquets, herbs, woods and spices in the Taylor of Old Bond Street range available at Fendrihan.
Fendrihan, the leading online men's grooming products realtor for Canadian men, and Taylor of Old Bond Street, constantly evolving British men's grooming experts, are a natural fit. Fendrihan pursues only the leading and the most innovative male grooming aids from around the world for men who seek and accept only the best for their manly care needs. Taylor of Old Bond Street creates such superior products.
Browse the exceptional selection of over 1,250 male grooming items at Fendrihan, from our exclusive supply of Coconut Shaving Bowls by Taylor of Old Bond Street through the wealth of manly grooming solutions for men of distinction everywhere. View their catalog at http://www.fendrihan.com to appreciate the bredth and the depth of Fendrihan's committment to superlative personal care for men.
About Fendrihan:
Fendrihan is the premier Canadian online destination for shaving and grooming supplies for men. With a comprehensive product range including traditional grooming staples, hard-to-find products from around the globe, and revolutionary new offerings from the most highly reputed names in gentlemen's personal care, Fendrihan's evolving selection appeals to veteran wet-shavers as well as men of any age or experience looking to elevate their daily grooming rituals. The Fendrihan compendium also includes standout European leather accessories offering the organization and clever convenience demanded and appreciated by their customers.
Contact Info:
sales(at)fendrihan(dot)com