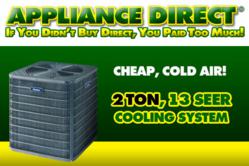 We began relations with Haier 10 years ago but we did not currently carry their brand. - Mark Salmon
(PRWEB) August 09, 2012
Appliance Direct, the leading seller of air conditioners in Central Florida, has been chosen to launch the Haier Central AC Brand in Florida. Appliance Direct is the largest Whirlpool only white goods Dealership in North America with 8 locations in Central Florida. Florida currently ranks as the leading Dollars per Capita Air Conditioning Market In the World.
Appliance Direct President Mark Salmon stated, "We began relations with Haier 10 years ago but we did not currently carry their brand."
Sam Pak, Founder and CEO, was quoted as saying, "Before we agreed to the launch our AC Partner, Steve Kelly, physically stripped the units all the way down to check the compressors and wiring harness. Pak said that until Kelly had his hands on all the critical parts he was "quiet as a mouse" then afterward he just kept grinning.
When asked why Appliance Direct chose Haier for an alliance Pak said that Haier management showed two critical things: quality product and commitment. Haier CAC is one of the world's biggest HVAC production bases that provide cooling, heating, and ventilation solutions for residential, commercial, and industrial applications.
Appliance Direct, whose headquarters are in Melbourne, Florida, is one of the largest appliance dealers in the country. They currently have 8 locations throughout Central Florida and are well known for their brand and unique marketing.