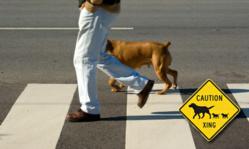 "It's in every dog owner's best interest to look out for his or her dog's safety, especially when it comes to a potential car accident," said Cole Paulson, developer at RoadTrafficSigns.
Brooklyn, New York (PRWEB) August 09, 2012
RoadTrafficSigns.com, the largest online distributor of road signage, has released a series of dog-friendly crossing signs in response to the growing number of canine fatalities on the road. This durable series of signage will designate areas where household pets are prevalent, keeping unknowing passersby informed of a potential dog crossing.
The Humane Society of the United States' website reports that there are approximately 78.2 million owned dogs in the United States, with thirty-nine percent of U.S. households owning at least one dog. Of those dog owners, forty percent of owners own two or more dogs. This high quantity of canines can lead to potential road hazards, with unleashed dogs often meandering into roads with high-volume traffic. Simple, specific signage warning motorists of the potential for dog crossings may effectively reduce the number of pet-related accidents.
RoadTrafficSigns' collection of dog crossing signs utilizes bright colors and universally recognizable graphics to inform motorists of a potential crossing. The signs range from simple yellow and black caution signs that read "Slow Down: Dogs in This Area" to individualized caution signs for over 36 different dog breeds. These individualized, breed-specific signs are meant as novelty items as well as safety precautions, with the breed graphic silhouetted on a bright yellow backing.
To effectively maintain safety on roads where dogs are prone to cross, the materials used in each sign augment visibility. In addition, the concise, graphic language informs motorists of a potential hazard immediately. RoadTrafficSigns uses durable 3M materials on reflective aluminum to keep the signs long-lasting and visible at all hours of the day and night. This sturdy composition outlasts other thin-gauge signs and won't rust, keeping readability high at all times.
"It's in every dog owner's best interest to look out for his or her dog's safety, especially when it comes to a potential car accident," said Cole Paulson, developer at RoadTrafficSigns. "With this new series of signage, we hope to reduce the amount of dog injuries and fatalities caused by driver negligence."
For more information about this dog-related signage and other road traffic signs, please visit http://www.roadtrafficsigns.com.
###
About RoadTrafficSigns.com
RoadTrafficSigns is the leading online distributor of MUTCD traffic signs. The signs are made with long-lasting 3M ink and offered in multiple reflective grades. Customers can create signs using convenient customization wizards.
About SmartSign
SmartSign is one of America's fastest growing e-commerce companies and parent of http://www.MySafetySign.com, http://www.MyParkingSign.com, as well as over 50 other sites.
Traditionally, signs with the right message have been hard-to-find, hard-to-design and hard-to-order. By positioning "Signs as Solutions", SmartSign has taken an entirely different approach. Through highly targeted, yet content-rich and authoritative sites, the company provides specific solutions to specific problems – such as keeping a parking lot safe. Couple this with fast and free shipping, 3M warrantied signs that outlast fast-fading ink jet signs from competitors, the web's largest range of designs and a best price guarantee, it is easy to see why SmartSign has grown so quickly.
Visit http://www.smartsign.com for more information.